Profile: Duchess of Cornwall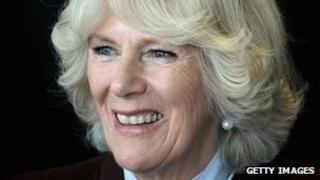 The Duchess of Cornwall, Prince Charles' wife, was born Camilla Shand on 17 July 1947 in London.
The daughter of Bruce and Rosalind Shand, she grew up in rural Sussex and was educated at the Queens Gate School in South Kensington, before finishing school in Switzerland and France.
The Duchess of Cornwall and the Prince of Wales first met at a Windsor polo match in 1970, a year before the prince joined the Royal Navy.
They became great friends but there was no marriage offer and Camilla married cavalry officer Andrew Parker Bowles.
They have two children - Tom born in 1974, and Laura, who is five years younger.
Despite being married, Camilla remained one of Charles' most trusted friends and legend has it that she helped the prince to choose a suitable wife - Lady Diana Spencer.
It is thought he proposed to Diana in the Parker Bowles' vegetable garden and he married her in July 1981.
But the relationship between Prince Charles and Camilla Parker Bowles led to a great deal of tension in the prince's fairytale marriage, and in 1994 Charles admitted adultery on national television.
Press criticism
Diana went on television to say there had been three people in the marriage and this led to Camilla facing public disapproval and occasional anger in the street.
Camilla and Andrew Parker Bowles divorced in 1995, with the cavalry officer marrying Virginia Pitman just a year later.
The idea of Charles and Camilla as a couple was gradually being officially introduced to the public.
But the death of Diana in August 1997 in a car accident meant Camilla retreated from public life as press criticism was renewed.
She slowly emerged as Prince Charles' companion and joined his sons on a Mediterranean cruise in August 1999.
In the same year she was photographed with him for the first time at the Ritz in London and later began regularly being photographed accompanying Charles to Prince's Trust galas, appearing more comfortable with the media.
Major operation
When Clarence House was renovated, she became the prince's live-in partner and questions were asked about the cost of her lifestyle.
But her eventual inclusion in the prince's official accounts was an indication a new level of official acceptance, paving the way for her full inclusion in the Royal Family.
In 1999, Camilla met Princes William and Harry, hosted a 50th birthday party for Prince Charles, and in 2000 met the Queen.
The engagement of Charles and Camilla was announced on 10 February 2005, with the couple marrying on 9 April 2005.
Camilla, or HRH The Duchess of Cornwall as she became after the wedding, has accompanied the Prince of Wales on many official obligations and overseas tours.
In March 2007 she underwent a hysterectomy procedure at the King Edward VII hospital in London. Clarence House described the operation as routine and said it was not cancer-related.
In December 2010 the couple were caught up in student protests in London as they made their way to a royal engagement by car. The home secretary confirmed that a protester "made contact" with Camilla during the incident.
Then in April 2012, as the Duchess was preparing to celebrate her seventh wedding anniversary to Prince Charles, the Queen made her a Dame Grand Cross, the highest female rank in the Royal Victorian Order.