London 2012: Children's art in Buckingham Palace montage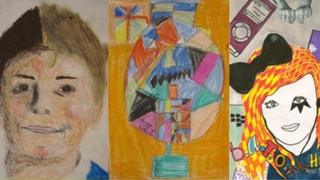 More than 200,000 children's self-portraits are set to form a giant image of the Queen on Buckingham Palace.
The images will be projected on to the palace from 20:30 to 23:30 on 19, 20 and 21 April and will also be displayed on 18 BBC Big Screens across the UK.
It is part of the Face Britain art project for youngsters aged between four and 16.
The montage will be attempting to break the Guinness World Records title for most artists working on an art piece.
The current record is 28,267 participants who worked together to create an artwork resembling the Israeli flag in 2009.
The Face Britain projections aim to celebrate the nation's young people in the lead up to the Diamond Jubilee and London 2012 Olympics and Paralympics.
Created by the Prince's Foundation for Children and the Arts, Face Britain is the UK's largest mass collaborative art project.
"Face Britain is about empowering children to explore their identity creatively, using the arts to communicate how they see themselves and giving us all a unique snapshot of our country's future generation," said Jeremy Newton, Chief Executive, the Prince's Foundation for Children & the Arts.
Blue Peter's Helen Skelton will be joined by a group of Hackney schoolchildren for a countdown before the projection is turned on next Thursday.
The Queen's Diamond Jubilee weekend takes place from 2-5 June 2012.