Town halls call for more power over High Streets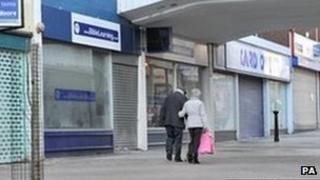 Town halls in England and Wales have called for more powers to tackle High Street takeaways, strip-clubs and bookies, which they say could damage local economies.
Local Government Association (LGA) research suggests that one-in-three councils are worried about the density of fast food outlets.
The LGA said more diverse High Street shops and amenities were needed.
Planning laws are currently under review, a government spokesman said.
Town halls want the Department for Communities and Local Government to reform planning rules to give councils more say over High Streets.
According to the survey, council officials believe High Streets would benefit from local retail shops, restaurants, butchers and amenities such as libraries.
Councillor Clyde Loakes, vice-chair of the LGA's environment and housing board, said: "The general public are less likely to shop on High Streets with clustering, while businesses may be less willing to set up on roads with clusters of unsavoury takeaways and raunchy sex shows."
'Powerless'
The LGA surveyed 348 council officers across England and Wales with responsibility for planning and received 141 responses.
One in 10 said pubs and bars were having a negative impact. And while three quarters said they worried about the impact strip clubs could have in the future, just 4% said they are currently harming local High Streets.
A Department for Communities and Local Government spokesman said: "Councils have a range of powers to license and control strip clubs, following changes to the law in 2010."
More than half of those surveyed said they believed betting shops could have a negative impact on local economies in the future. A fifth said bookies are currently a problem.
Councils are currently "powerless" to prevent shops turning into betting shops and risk costly compensation payouts if they try, the LGA said.
The government said it was "examining" the proliferation of betting shops in some local areas.
But the head of the Association of British Bookmakers, Dirk Vennix, said that bookmakers "are helping breathe life into struggling local economies by bringing shoppers into town centres."
Mr Vennix said betting shops support 100,000 jobs and contribute £3bn to the UK economy.