Agencies warn poor rains threaten Somalia's recovery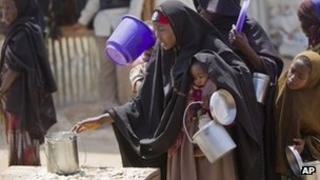 Poor rainfall forecast for Somalia threatens its recovery from last year's devastating famine, aid agencies say.
Famine warning system Fewsnet says the March to May rains are forecast to be late, below average and poorly spread.
A report by 17 agencies in Somalia says the worst case scenario of 60% of average rainfall would cause major crop failure in the Horn of Africa's east.
They have called on the international community to do more to build local capacity for response.
The agencies said the world did not listen to early warnings of the 2011 crisis in the Horn of Africa and the response to the disaster was too late. Thousands of deaths could have been prevented, they said.
Continuing conflict
The report says malnutrition and death rates remain unacceptably high and the gains fragile - particularly due to continuing conflict and the difficulty of delivering aid to those most in need.
BBC world affairs correspondent Mike Wooldridge says the agencies argue that the world needs to continue to prioritise aid for Somalia.
In February, world leaders meeting in London pledged to boost support for measures to fight piracy, terrorism and political instability in Somalia.
The conference agreed a seven-point plan promising more humanitarian aid, support for African Union (AU) peacekeepers and better international co-ordination.
Somalia has not had a functioning central government for more than two decades and has been riven by factional fighting.
The current transitional government has direct control only in the capital, Mogadishu. It is propped up by 12,000 AU peacekeepers.
Al-Shabab militants, who recently joined with al-Qaeda, control large swathes of territory in Somalia and the group says it will wage a guerrilla war against the government.