Newspaper review: Briton's death in China probed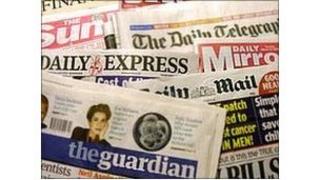 The Times and Daily Mail lead on the case of the suspected murder of British businessman Neil Heywood in China.
The Mail claims Mr Heywood's wife is eager to flee China for the UK.
The Times says the Foreign Office is facing more questions over its response to concerns raised when Mr Heywood died in suspicious circumstances last year.
The Daily Telegraph carries the headline "Britain's vilified Christians" with comments made by ex-Archbishop of Canterbury.
It says Lord Carey has told the European Court of Human Rights that Christians will face a "religious bar" to employment if rulings against expressing their beliefs are not reversed.
Christian-funded interns
The Guardian has a double-page report about a Christian charity that has funded interns for an estimated 20 MPs.
According to the paper, the Christian Action Research and Education Charity sponsored a 2009 conference in London that promoted the idea that gay people could be converted to heterosexuality.
The Daily Express warns its readers not to put away their winter woollies because temperatures will plunge to their lowest since Christmas over the next few days.
Photos of David Cameron walking beside Burmese pro-democracy leader, Aung San Suu Kyi in Rangoon feature on several front pages.
The FT Weekend cautioned the prime minister that even as he was taking tea with Ms Suu Kyi his prestige was being diminished at home, thanks in part to a badly received budget.
Art 'farce'
The Sun says eight paintings that cost taxpayers more than £270,000 are still hanging at the Ministry of Defence - 18 months after the paper was promised they would be sold.
The Independent says it has uncovered evidence that Indonesian sweatshops are being used to produce some of the Olympics-branded Adidas kit to be worn by UK athletes and Games volunteers.
The Guardian says the company hired by the government to deport foreign nationals has decided to place its own guards under covert surveillance.