UK victims of overseas terrorism to be compensated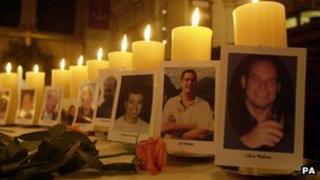 Victims of overseas terrorist attacks may now claim compensation from the British government if they lived in the UK for at least three years beforehand.
Justice Minister Crispin Blunt said payments were being restricted to victims "who have a clear and sufficient connection to the UK".
The compensation scheme will apply to six attacks since 2002, including the bombings in Bali that year.
Victims of domestic terrorist attacks can already claim compensation.
The overseas attacks deemed eligible by Foreign Secretary William Hague include the 2002 Bali bombings, the 2005 attacks on tourist sites in Sharm el Sheikh, Egypt, and the 2008 Mumbai attacks in India.
Victims of the bombings in Kusadasi, Turkey, in 2005, in Dahab, Egypt, in 2006, and in Mamaris, Turkey, in 2006 are also entitled to financial support.
Ongoing disability
In a written statement Mr Blunt said: "The aim of the ex gratia scheme is to demonstrate solidarity with those in our community who have been affected by terrorist incidents overseas, taking into account the nature of terrorist attacks as a political statement and attack on our society."
Payments will be made to British, EU and EEA victims resident in the UK for at least three years prior to the attacks who "continue to have an ongoing disability as a direct result of the injuries they sustained", he added.
Victims of domestic terrorist attacks can already be compensated under the Criminal Injuries Compensation Scheme (CICS).