Cameron offers help in probe into Briton's death in China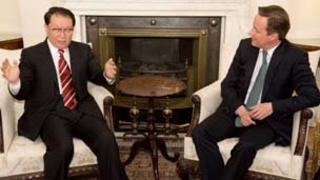 David Cameron has offered "any necessary assistance" to help China investigate the death last year of Briton Neil Heywood.
The prime minister raised the case with Chinese politburo member Li Changchun at Downing Street on Tuesday.
The wife of demoted Communist Party official Bo Xilai has been held on suspicion of the businessman's murder.
Foreign Secretary William Hague said he hoped the Chinese investigation would "ensure justice is done".
A Downing Street spokesman said Mr Li had thanked the prime minister for the offer of assistance and "they agreed both governments would stay in close contact on the issue."
Mr Li also said the case was being examined by the judiciary in "full accordance with the rule of law".
The 41-year-old businessman was found dead on 15 November in a hotel room in the central city of Chongqing.
Chinese officials initially told British consular officials on 16 November that Mr Heywood had died of "excessive alcohol consumption" but after friends raised doubts, the UK government asked the Chinese authorities to reopen the investigation.
Unconfirmed reports in China suggest the 41-year-old may have died from cyanide poisoning.
Procedures 'reviewed'
On Tuesday Foreign Secretary Mr Hague released a written statement outlining the UK's response to the case, prompted by questions by Conservative MP Mark Pritchard, including a request to know when the UK embassy was first informed about the death.
In the statement Mr Hague said: "We now wish to see the conclusion of a full investigation that observes due process, is free from political interference, exposes the truth behind this tragic case, and ensures that justice is done."
Foreign Office minister Jeremy Browne had met Mr Bo in Chongqing on 16 November - the same day British consular officials were told of Mr Heywood's death.
Mr Hague said ministers were not routinely told about the death of British nationals.
But he added: "We need to make sure that they are told in relevant cases and we will review our procedures."
He said a Foreign Office official had attended Mr Heywood's cremation and full consular support had been provided to the family in China and the UK.
The foreign secretary said the Foreign Office was made aware on 18 January of rumours within the British expatriate community calling into question the Chinese police findings. The following month a former Chongqing police chief, Wang Lijun, made allegations to US consular officials.
Mr Wang alleged Gu Kailai had been involved in murdering Mr Heywood, Chinese state news agency Xinhua has reported.
Foreign Office officials informed Mr Hague in February about concerns about the case and he told them to contact the Chinese authorities and seek an investigation into Mr Heywood's death.
The foreign secretary said Chinese authorities had told the British ambassador to China on 10 April that an investigation into Mr Heywood's death had begun, after repeated requests from the UK.
State media have reported that Bo Xilai's wife Gu Kailai and Zhang Xiaojun, an orderly at Mr Bo's home, have been arrested.
Mr Bo has been suspended from the Communist Party's 25-member politburo amid allegations of "serious discipline violations".