Treatment for violence-related injuries 'fell in 2011'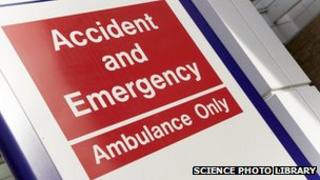 The number of people needing hospital treatment for violence-related injuries in England and Wales has fallen for the third year running, a study suggests.
A Cardiff University survey of 42 minor injury and A&E units found the number of people treated due to violence dropped by about 11,000 (4%) in 2011.
Violent attacks on children were also down after rises in the past two years.
Jonathan Shepherd - who led the annual study - said falls among at risk groups were particularly encouraging.
Cardiff University researchers said about 308,000 people were admitted to accident and emergency and minor injury units with injuries due to violence in 2011, 4% fewer than in 2010.
Rates of violence have consistently fallen since the study began in 2001, except for in 2008, when the number of people treated rose by 7%.
'Promising trend'
The study identifies children and adults aged between 11 and 30 as the group most at risk of violent attack.
Violence towards young children rose by 20% between January 2009 and December 2010, but this year's figures show the trend is reversing, with a 14% fall in child victims.
The number of violence-related injuries was down in all age groups, except those over 51, who make up just over 1% of the total number of people attacked.
Male victims still outnumber women by about three to one, despite rates of violence falling more quickly among men.
Prof Shepherd, Director of the Violence and Society Research Group, says falls in the most at-risk groups are particularly promising.
"This continues a trend identified in 2010 and is likely to be linked to policing, community partnerships and public health interventions.
"We also welcome the reversal of violence-related harm to small children, which may well reflect government efforts to tackle this problem" he added.
The report shows that violence has fallen faster in Wales than in England since the 1990s, when admissions were at their peak.
Each year data is collected from 42 accident and emergency departments and minor injury units across England and Wales.
The report was published ahead of the release of the latest crime statistics for 2011 by the Office for National Statistics, due on 19 April.