Dozens more phone-hacking legal claims emerge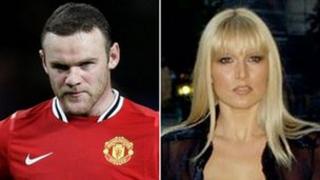 Dozens more claims against News Group Newspapers in the phone-hacking civil litigation have emerged, including by footballer Wayne Rooney and Sir John Major's ex-daughter-in-law Emma Noble.
Lawyers said they also included Cherie Blair and politician Nigel Farage.
At the High Court, Mr Justice Vos is deciding issues concerned with a second wave of litigation over phone hacking.
Hugh Tomlinson QC said there were 4,791 potential victims in total, of whom the police had contacted 1,892 people.
Mr Rooney previously tweeted in April 2011 that he had been contacted by Scotland Yard regarding the possible hacking of his phone by private investigator Glenn Mulcaire.
There is a trial date of February 2013 for any cases that are not settled in advance.
'Unbelievable'
The judge urged the importance of budgeting after hearing that £10m in costs had been incurred in individual cases so far.
He said it was "unbelievable" that 55 different firms of solicitors were representing 100 claimants and said it would be appropriate to encourage claimants to instruct lawyers who already had specialist knowledge of the litigation.
Mr Justice Vos was told that some of those bringing claims were likely to wish to remain anonymous.
But he said: "If you bring legal proceedings in this country, you expect to have them publicly known.
"There are cases where that is not the situation, but they are few and far between, and that should be made clear."
After the hearing, lawyers Atkins Thomson issued a register of the names of individuals who have issued claims in the second round of litigation.
They include footballer Ryan Giggs, singer James Blunt, former royal butler Paul Burrell, footballer Peter Crouch and his wife Abigail Clancy, TV presenter Jamie Theakston, David Beckham's father Ted Beckham, TV presenter Matt Dawson and actor James Nesbitt.
In June 2011, Mr Giggs began legal action against the News of The World amid claims that his phone was hacked.
Mr Giggs was named in parliament as a footballer who had tried to use an injunction to hide an alleged affair with reality TV star Imogen Thomas in May 2011.
Earlier this year, Mr Giggs lost his case against the Sun newspaper for breach of privacy regarding this matter.
In October 2011, Rupert Murdoch confirmed that the Dowler family would receive damages of £2m over the hacking of the voicemail of their murdered daughter, Milly.
Singer Charlotte Church agreed damages and costs of £600,000 with News Group Newspapers in February 2012.