London 2012: Air traffic chief speaks of challenge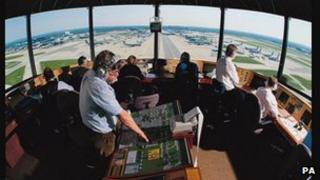 The head of air traffic control in and around London has spoken of the "challenge" of preparing for 4,000 extra flights during the Olympic Games.
Paul Haskins, of National Air Traffic Services (Nats), is in overall charge of organising how thousands of aircraft will get in and out of London.
Air traffic controllers face leave restrictions during the Games.
Staff have been given special radar training to monitor newly-restricted airspace around London.
Hot air balloons, microlights and private planes will be banned from a prohibited zone around the Olympic Park and will require prior approval to enter a broader restricted zone.
The area of controlled airspace will extend up to 30 miles in some directions.
Air traffic chiefs say the restrictions are needed to address security concerns.
Military leaders fear private pilots could accidentally stray across the larger boundaries, leaving air controllers unclear as to what is a genuine mistake and what could be a hijacked plane.
The restrictions are detailed on the website olympics.airspacesafety.com .
Paul Haskins, London terminal control general manager for Nats, said in an interview with the Press Association: "During the Olympics if you start infringing London's airspace and you're heading towards one of the key stadiums, the Ministry of Defence is likely to see you as a threat.
"The Civil Aviation Authority is responsible for uncontrolled airspace.
"We have done a lot of work with them in terms of education because we don't want light aircraft and microlights getting confused about what is and isn't controlled airspace and wandering into an air lane we wouldn't want them in."
Experts at Nats will be the first to know if an aircraft enters restricted skies, triggering automatic responses which could lead to it being intercepted by RAF Typhoons.
Mr Haskins said: "Our role is to accommodate the RAF in whatever it deems appropriate in terms of risk assessment and deciding what's a threat."
Military commanders would not have "the luxury" of knowing whether an unidentified aircraft was a small plane with a lost pilot or a hijacked jet, he added.
"The MoD just knows there is an aircraft in airspace it shouldn't be, heading towards a populated area," said Mr Haskins.
"They will have to do a risk assessment and you might find there is a security response to that flight because they are trying to work out if it is a threat."
Avoiding airport strain
Another issue which could affect the Olympics is potential queues at border controls in airports, which could have an impact on flights.
MPs said earlier in April that Heathrow Airport may struggle to cope with extra passengers arriving during the summer games. Long waits for immigration checks could lead to passengers being kept on planes after landing, they warned.
Mr Haskins said aircraft could be held at departing airports to avoid putting too much strain on destination airports and it was unlikely controllers would need to keep planes in holding patterns.
Systems were in place so Nats could warn airlines of congestion, meaning pilots of London-bound jets could be ordered not to leave European airports, he said.
"We have regular telephone conferences with airports throughout the day where we are looking at forecast demand for the next three to four hours," he said.
"We don't get into a situation where they ring us up and say, 'No more, thank you very much.'," he added.
As well as the extra planes bringing people in for the Olympics, there will also be helicopters over Games' venues providing television footage, with others nearby.
One US television network will be adding to the demands on airspace. "The broadcaster NBC is chartering an airship for the whole of the Games from where it will present its coverage," Mr Haskins said.
Around 700 extra airliners and more than 3,000 executive jets are expected to fly in and out of airports in the South East for three weeks before, during and after the Olympics.