Newspaper review: French election results analysed in papers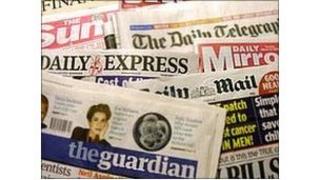 The results of the first round of the French presidential election are analysed in Monday's newspapers.
The Times has the headline "Sarkozy faces defeat" and says Francois Hollande is now within reach of the Elysee Palace.
The Financial Times says much remains to play for in the presidential race.
It points out that almost half of those who voted did not cast their ballots for either front-runner, making the second round an enticing prospect.
While far-right candidate Marine Le Pen did not go through to the second round of France's elections, many papers look at the record showing for her party.
The Daily Telegraph believes the same combination of economic malaise and popular disillusionment that fuelled George Galloway's by-election victory in Bradford West last month is at work.
Meanwhile, the Daily Mail has a photograph of President Sarkozy's wife - Carla Bruni - on its front page.
It suggests that, despite losing the first round, the president could remain in power by picking up votes from Ms Le Pen's supporters.
Under the photograph, its headline says: "Humiliated - but Far Right may keep Carla in the Elysee."
The Sun's lead is an interview with footballer Fabrice Muamba.
The Bolton Wanderers midfielder, who nearly died after collapsing during a game, is shown kicking a ball alongside the headline, "Wow, that feels good."
The Guardian says it has learned that the home secretary is considering ordering a new public inquiry into the murder of Stephen Lawrence.
It says Theresa May believes claims police corruption may have shielded the killers of the black teenager need thorough investigation.
A diplomat who lost sight in one eye after being attacked in West London on Friday speaks to the Daily Telegraph.
George Fergusson says he is lucky that he can still lead a normal life.
A joint committee of peers and MPs setting out recommendations on Lords reform, due out later, is the lead story in the Independent.
The paper says the committee is split and its conclusions were passed by only a wafer-thin majority.
The Times says the report's publication marks the beginning in earnest of a titanic battle over the issue
It predicts the battle will be fought between peers and MPs, members of the same parties, and within the coalition.