London 2012: Olympians use sport to change young lives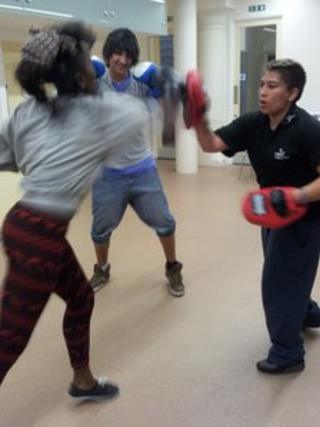 Getting an Olympic gold medal is something many athletes dream of and few achieve. But for some youngsters that goal seems almost impossible.
Now, young homeless people in London are teaming up with Olympians for the chance to turn their lives around.
Swimmer Adam Whitehead and boxer Hannah Beharry will mentor youths in the charity initiative, Sport for Change.
Ms Beharry was a 2012 hopeful, before injury forced her to sit out. She now works with the Dame Kelly Holmes Trust .
The DKHT works with Centrepoint , a charity for homeless people aged 16 to 25, to help disadvantaged youngsters get into training or employment - using the power of sport.
British boxing champion Ms Beharry knows what it is like to come from a troubled background.
At the age of 17 she found herself living a life of crime. She was in a gang and left school without any qualifications but that was when she turned to sport.
"I got myself into a lot of trouble," she said.
"I didn't have any aspirations in life. At 19 I decided that was it. One of my friends had been killed and that kind of woke me up. I said: 'Right you need to sort your life out or you'll end up down that road'.
"I wasn't too sure what I was going to do. It was scary because that was the only life I knew. So when I decided to change my life around, it was hard but it was out of determination that my friend had died and I didn't want to be in that place."
Ms Beharry said that as her sport grew she then found the DKHT.
Together with Centrepoint, they provide motivational sessions ranging from physical activities to teaching youngsters how to cook and eat healthily.
"Getting involved in sport provides many homeless young people with the confidence to take control of their future," said Seyi Obakin, CEO of Centrepoint.
"Through the programme young people not only benefit from the support of their peers, but also mentorship of world-class athletes.
"The determination and discipline behind their achievements has had a powerful effect on many young people, inspiring them to set new goals and take every opportunity to turn their lives around."
Pretty tough
Centrepoint provides accommodation-based services in London and north-east England and its patron is Prince William.
Meryl, 19, is originally from Paris and was made homeless two weeks after he arrived in Britain in 2010.
Through Centrepoint, which supports 1,200 people per year, he attended his first Sport for Change session.
"It was my mum's choice to come to England - she decided to bring me to a country where I couldn't speak a word of English," he said.
"She decided to abandon me so it was pretty tough.
"I was kind of used to that environment - being alone - because that's how I grew up since I was a little kid.
"I raised myself to make the right choices even though no-one was there to teach me. But it was fine and everything was all right.
"Luckily I got help and right now life is great."
Olympic swimmer Whitehead started working as a DKHT mentor in 2009.
He said that growing up he had problems with dyslexia and it affected him at school.
"I really struggled with that, but as soon as I got into a swimming pool, as soon as I got into water, that was it. I knew that was what I was here to do," he said.
"I left school with 10 GCSEs. That meant I could go to college and university, which I didn't think would ever be possible, and that was because of swimming.
"It gave me that motivation, that belief and confidence to be successful in other areas of my life."
Coventry-born Mr Whitehead competed in the 2000 Olympics in Sydney but was eliminated in the qualifying heat of the men's 100m and 200m breaststroke.
He represented Great Britain for 10 years and won a gold medal at Manchester's Commonwealth Games in 2002, before retiring in 2003.
Gold medal
He said after he lost out in the Olympics, he had to face his own demons and now uses those experiences to help youngsters.
"We try not to make it 'us' focused, but if they do ask about particular moments or situations then most of the athletes are more than happy to share that.
"There were times when things went incredibly wrong for me and I crashed out of the Olympic Games in 21st place after coming fourth at the World Championships the previous year.
"It sent me on this road of depression and being prescribed anti-depressants.
"All those sorts of things took a long time to get over. Talking about those issues with the guys does help."
He spent the session giving one-to-one training with the youngsters who he said have a great interest in the Olympics.
"We were telling them who we were and what we had learnt and the first thing they asked was if I had my gold medal.
"Luckily I had it in my bag so I could pass it around and people could touch it - it wasn't an Olympic medal but it was a gold. I think it made it real that it took a lot of effort.
"They are probably a stone's throw from the Olympic Stadium and to feel a part of it is really important and I'm hoping we can bring that to life for them."
Future dreams
The youngsters in the DKHT programme are usually Neets (not in education, employment, or training) and after just two sessions Meryl, said he was much more optimistic about the future.
"I have an interest for many things but I'm more focused on the fashion side of the world and hopefully everything will work out fine.
"I still want to do it, go step-by-step and hopefully reach my goal."
London-based Ms Beharry said that not only has the programme given the teenagers a focus, but also her as an athlete missing out on London 2012.
"I was so down and thinking about what do I do. I was lost. You're a human being, you go through those emotions.
"But I was lucky I joined the DKHT and it's crazy how the support team brought me into this kind of work.
"In a way going to the Olympics, was so massive and it was a dream, but my other dream was working with young people and being able to help them.
"Now I've found another passion and dream and I absolutely love it. Yeah it was a dark side but when one door closes another one opens."
Two passions
So it seems that Sport for Change is not only helping the homeless but also the athletes who find they must change their path once they have finished training.
"When I retired I had no idea what I was going to do with the rest of my life," Mr Whitehead said.
"I came to the trust wanting help and support and it actually set me on a journey working with young people.
"I'm more passionate about that than I ever was about swimming if I'm honest with you.
"For me to be able to connect the two - the love and passion I had for sport changed my life and my path to pass that on is a great opportunity and I think the two tie together really well."
Youngster Meryl, now has dreams to be a trainer designer, and agreed with his mentor.
"Adam inspired me a lot because he told me about his past and how he dreamt to be a professional swimmer.
"I used to think like that, but at the same time I used to have those thoughts that I think I'm going to flop. I'm glad I met Adam - he's a great guy."