Fuel tanker drivers urged by union to reject deal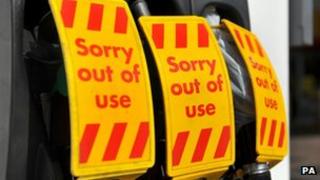 Tanker drivers involved in a dispute with fuel distribution companies have been urged to reject proposals aimed at resolving their differences.
A key group of Unite union leaders - the oil trades conference - have recommended that the 2,000 drivers reject the proposals, negotiated during eight days earlier this month.
The drivers, from seven firms, can vote on the proposals until 11 May.
The union said the proposals did not go far enough.
The drivers work for Wincanton, DHL, Hoyer, BP, Norbert Dentressangle, Turners and Suckling.
After meeting on Thursday, the union representatives said they "recognised that progress had been made on health, safety and training, but expressed deep concern that the proposals did not go far enough in bringing stability and security to the sector through industry minimum standards," a statement from Unite said.
Unite assistant general secretary Diana Holland added: "It is in everyone's interest that we end the contract merry-go-round and the erosion of standards in a vital industry.
"Delegates at the oil trade conference felt the proposals did not meet members' expectations and are recommending that members reject them in the consultative ballot."
Unite would have to give seven days' notice of any walkouts.