'Beds in sheds' targeted by national task force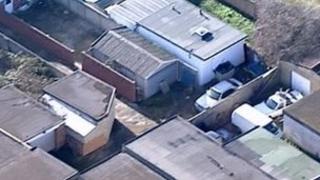 The government is setting up a task force to tackle "beds in sheds" by acting against criminal landlords and removing illegal immigrants.
Housing Minister Grant Shapps and Immigration Minister Damian Green will discuss the problem later with police, immigration and council officials.
Thousands of sheds and outbuildings are rented out illegally, say ministers.
Those who live in them are often migrants who put up with high rents and primitive conditions.
Mr Shapps and Mr Green will raise several proposals, including:
encouraging councils to make greater use of legal powers across planning, fire safety, housing and environmental health
measuring the extent and nature of the problem, drawing on information collected by Whitehall and Town Halls
ensuring councils and the police share available intelligence
closer working with foreign authorities to help those wanting to return home
steps to prevent more "beds in sheds" from being created
Mr Shapps will say: "It is a scandal that these back garden slums exist to exploit people, many of whom are prepared to return voluntarily to their home country but instead find themselves trapped into paying extortionate rents to live in these cramped conditions.
"I want to see a crackdown on these criminal landlords."
Mr Green will say: "Those with no right to be in the UK must leave the country. If they volunteer to leave, we will help. If they refuse, we will enforce their removal."