Contaminated children's orange juice recalled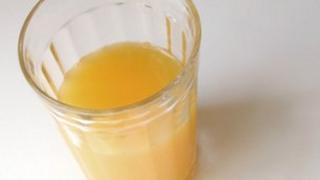 Hundreds of cartons of orange juice marketed for children are being recalled after being found to contain contaminated water.
The 277 multi-packs of Tropicana Kids Orange Juice affected by "microbiological contamination" are being recalled by its maker Pepsico.
They are easily identifiable because they have no branding on the cartons, the Food Standards Agency said.
Retailers will display notices urging customers to return the drinks.
In a statement on its website, the FSA said: "If you have bought the affected product, don't drink it.
"The affected cartons will be easy to distinguish because they do not contain any batch or date codes, either on the outside packs or the internal cartons.
"Affected stores have already been informed and point-of-sale notices will be displayed in stores explaining the reason for the recall and the actions customers can take if they have bought the affected product."
Anyone who has bought the affected drinks can call the freephone helpline 0800 032 4460 for a full refund.