Khat terror funding probe: More time to quiz suspects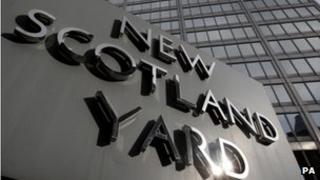 Police been given more time to question seven people over claims that terrorism abroad was funded with money from the smuggling of the stimulant plant, khat.
Six men and a woman were arrested at homes in London, Coventry and Cardiff on Tuesday in early morning raids by counter-terrorism officers.
They were taken to a London police station and a court has now extended the time they can be held until 8 May.
Scotland Yard said searches at 12 addresses had been completed.
Police arrested the seven people on suspicion of being concerned in the funding of a terrorist organisation and laundering the proceeds of crime:
A 45-year-old woman and a 49-year-old man in Croydon
Two men aged 30 and 47 in Brent, north-west London
Two men aged 42 and 45 in Coventry
A 40-year-old man in Cardiff.
Warrants granted
Officers carried out searches at the scene of the arrests, as well as at seven other addresses in London, Worthing and Coventry.
Scotland Yard said the arrests were part of an investigation into a network suspected of illegally exporting khat to the US and Canada.
The plant is used by some people in East Africa and is not banned in the UK - but it is a controlled substance in North America.
Investigators from the US Department of Homeland Security have also been involved, said the Met.
Warrants extending the period of detention of those arrested were granted by Westminster Magistrates' Court on Tuesday.