Newspaper review: Hollande's election victory analysed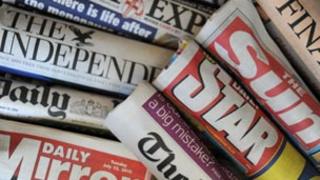 Most of the papers lead on Francois Hollande's victory in the French presidential elections.
The Daily Mail believes his victory over incumbent Nicolas Sarkozy could plunge Europe into "fresh economic chaos".
It says Mr Hollande will "tear up" the eurozone's financial discipline pact.
The Daily Express says the future of the EU has been "thrown into turmoil", while the Guardian welcomes Mr Hollande's victory, but urges him to form good relations with Germany.
The Times reports that Mr Hollande's first phone call after his victory was to Germany's Chancellor Angela Merkel.
It suggests he may not be so keen on David Cameron, who chose not to meet him in London in February. The paper says that now looks like "an unwise snub".
The Financial Times says Greece faces "political turmoil" after "inconclusive" parliamentary elections, as smaller parties played on voters' frustration with the harsh economic reforms mandated by the EU.
The Daily Mirror says the big message from the polls in both France and Greece is that "ordinary people are fed up with austerity".
Speculation abounds meanwhile about what is going to be in Wednesday's Queen's Speech.
The Financial Times reports that the "centre-piece" will be a bill giving shareholders more powers to curb executive pay.
It says legislation being put forward by the Business Secretary, Vince Cable, will give shareholders a binding vote.
Writing in the Daily Telegraph the newly re-elected Mayor of London, Boris Johnson, asks why immigrants tend to out-perform natives in the jobs market.
He says there needs to be an "honest and unflinching" look at why young Londoners lose out to immigrants.
The Independent 's cartoon cheekily plays on the perceived rivalry between Mr Johnson and Mr Cameron.
The Sun , meanwhile, reflects on Sunday's "super-moon" with a picture of the glowing orb over the Christ the Redeemer statue in Rio de Janeiro, Brazil.