Newspaper review: New fears over euro after elections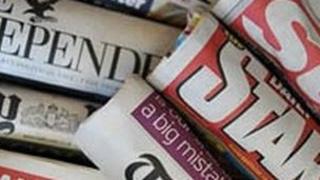 "Austerity backlash sends euro back to danger zone" is how The Guardian reads the election results in France and Greece.
"Deadlock pushes Greece closer to euro exit" is the headline in The Independent .
The paper says markets plunged on the prospect of stalemate in Athens, fresh elections next month and a possible exit from the euro.
In its editorial, The Guardian welcomes the new French President, Francois Hollande.
The Daily Mail says whatever Mr Hollande may say the answer to the debt crisis is not to pile up more debt and hope the problem will go away.
If 13 years of Labour profligacy taught us anything, the paper concludes, it taught us that.
The Financial Times leads on reports Spain is planning a state bailout of Bankia, one of the country's top banks.
The paper says the move, which would cost billions of euros, is an abrupt policy reversal by the government.
According to The Times , senior Liberal Democrats believe that the party may have to withdraw from the government early to avoid being wiped out at the next general election.
It says senior figures think the party will need to reassert its independence well before polling day in 2015.
The Daily Express highlights a new survey, by the Carers Trust, which suggests tens of thousands of carers are suffering from mental health problems as they struggle to look after elderly or sick loved ones.
The main story for The Sun has the simplest of headlines: "Dustin Hoffman Saved My Life".
The paper tells the story of Sam Dempster whose heart stopped while he was jogging in Hyde Park 10 days ago.
A passer-by who saw him collapse and called 999 was none other than the film star Dustin Hoffman.
The actor stayed by the patient's side for 15 minutes while the paramedics got his heart going again and transported him to a waiting ambulance.