Analysis: A British threat from Somalia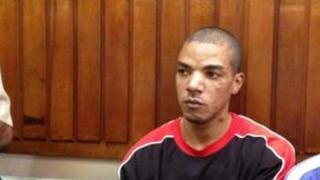 The black flag of al-Shabab flies on Twitter - and its tweets are in English - English that reads like it is written by a native speaker.
We don't know who the writer is - but over the last five years there have been mounting questions over the number of people from the UK who have been going to Somalia to help al-Shabab, the organisation affiliated to al-Qaeda that controls part of the country.
This spring, those concerns have been focused on the case of East Londoner Jermaine Grant. He is accused in Kenya of being part of a bomb plot orchestrated by the Islamist movement.
Grant, already convicted of entering the country illegally, denies involvement in a plot and his lawyers say he has been beaten and subjected to solitary confinement.
But it's now emerged that Samantha Lewthwaite, the widow of 7/7 bomber Jermaine Lindsay, is wanted in connection with the same alleged bomb plot for which Jermaine Grant is now on trial.
Jacob Ondari told the BBC that investigators suspect the two worked together and that Ms Lewthwaite was the "financier". She is missing from Kenya and has not been formally charged.
The alleged link to 7/7 is the starkest example yet of why the British security and intelligence agencies are so worried about Britons in Somalia.
The ringleader of the 7/7 bombers, Mohammad Sidique Khan, began his journey to a violent end by rattling buckets raising cash for Kashmir. He then went to Pakistan for mujahideen training and, much later, brought his war back to the UK.
It's this fear of "blowback" that has become a primary concern for security officials looking at Somalia. Just as with Pakistan, there are now substantial ethnic and community links between the UK and the Horn of Africa nations.
Officials fear that the young British people who go to Somalia to join al-Shabab's jihad will return with the skills and the mindset to launch attacks on British streets - just like Sidique Khan before them.
Incognito jihadist
What's more, as Al-Qaeda's core has increasingly struggled to operate in Pakistan and Afghanistan, al-Shabab has increasingly become an attractive alternative.
But are the fears justified?
Jonathan Evans, the director general of MI5 has said that there are a "significant number" of UK residents training with al-Shabab.
None of this means that any young Briton who goes to East Africa is an incognito jihadist. But it's clear there are those who are.
One of the first was a 21-year-old British man who blew himself up in an attack at an Ethiopian army checkpoint five years ago. The man, whose identity has never been publicly confirmed, recorded his martyrdom video in clear English.
So how many more have followed him out to Somalia? Rusi, the security think tank. estimates there are 50 British fighters in Somalia but, to be frank, nobody really knows. Some Somali community leaders have suggested hundreds have been through al-Shabab's camps.
But last October, Cardiff man Abdirhman Haji Abdallah decided he wouldn't sit quietly when his son and a friend appeared to be heading off to Somalia to join those numbers. He got on a plane to bring them back home.
"My son was misled into believing that he was fighting in a holy war," he told the BBC Somali Service.
"He was brainwashed and taken away from us and he was told that he was going to fight a holy war in Somalia.
"With God's help the authorities managed to arrest my son near the Somali-Kenyan border."
On their return, the young men were interviewed by the Metropolitan Police. They were later released without charge.
Mr Abdallah's fears are shared by many in Somali communities.
Teaching assistant
There have been at least two cases before the Special Immigration Appeals Commission, the semi-secret court that deals with national security deportations, in which the home secretary has sought to bar people from the UK because of their links to al-Shabab.
One case involved a man who attended the same Cumbrian training camp as the failed 21 July London suicide plotters.
Elsewhere, a former teaching assistant from east London, Shabaaz Hussain, was recently jailed for five years for donating £9,000 for terrorism in Somalia.
The 28-year-old provided cash to three of his friends who had left the UK to allegedly fight in the east African country.
Two of the men currently subjected to monitoring and control in their own homes under Terrorism Prevention and Investigation Measures (T-pims, the system that used to be called control orders) have alleged links to extremism in Somalia.
It's worth stressing that these men have not been charged with offences - and a great deal of the case against them is heard behind closed doors.
But. nevertheless, the public judgement in the case of one of the men, BX, revealed that MI5 had assessed that he had received terror training in Somalia and had helped to arrange funding for al-Qaeda associates in East Africa.
When he was first arrested in Nairobi, the High Court was told, he attempted to eat a list of phone numbers. He was returned to the UK and later placed under a control order and moved out of London to break up his alleged network.
One of the men he was banned from meeting was called Bilal Berjawi. The ban ultimately didn't matter. Mr Berjawi returned to Somalia, adopted the nom-de-guerre Abu Hafsa and was later described as a senior commander.
And he was the British man killed by the drone strike earlier this year, tweeted by al-Shabab.