London 2012: Games Makers get in gear for the Olympics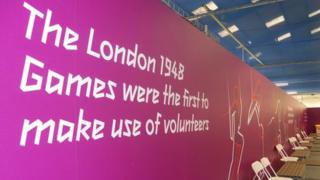 If the cap fits - you're a London 2012 Games Maker . Up to 70,000 Olympic and Paralympic Games volunteers are donning their uniforms for the first time, which will enable them to work at the Games.
Between May and September the Uniform Distribution and Accreditation Centre (UDAC) will process 400,000 staff and volunteers, who will wear identical outfits in the summer.
Per hour, 800 people can be accredited and 280 can pick up their uniforms. That is a lot of enthusiastic volunteers to get through.
So with thousands of people going through the doors at the centre in east London, the BBC looks at how to get from changing room to checkout.
Starting line
The UDAC centre is a far cry from the splendour of the Olympic Stadium: it is simply a brick warehouse with London 2012 flags outside.
Only security staff on the door give the indication that something important could be happening inside.
The Games Maker journey begins in the accreditation hall where other volunteers and members of staff from the UK Border Agency validate documents and check identities.
This section is almost empty, apart from the bank of staff waiting to scan databases and check that applicants are who they say they are.
Next comes the photograph area. Most Games Makers had their picture taken at their selection event so this part of the process is mainly for contractors and Locog staff - who all need to be accredited.
If there is a problem with documentation - for example, incorrect spellings or an incorrect role being assigned - visitors are taken to the help desk.
"We will try to do as much as possible to resolve issues at the UDAC rather then send people away," says Sharon McMichael, London 2012 organiser Locog's head of accreditation and uniforms.
"We want it to be a positive experience. At the moment we are seeing less than 10% of people with problems but that will increase."
Before the accreditation is complete all passes are laminated for security purposes.
Each pass has a unique barcode and Miss McMichael said they will be encouraging Games Makers to report lost or stolen passes so the old one can be cancelled and a new one can be reissued.
"It's an important document so we will be encouraging everyone to look after it and wear it visibly at all times."
Games Makers would even be encouraged to sleep in them, she laughs.
Quick change
Once the paper is in place, it is off to the changing rooms.
It starts with the feet: specialist staff make sure that Games Makers' red and grey trainers fit.
Half-sizes are available and advice is given about leaving enough room for feet to swell in the summer heat.
"They are so soft, like slippers," shoe fitter Danielle Watts says, as she checks toes are not protruding out of the trainer.
"The Games Makers are going to be on their feet for a long time so they have got to be comfortable."
Next they try on their uniform for size, in one of 70 fitting rooms, split into male and female sections.
Designed by Locog and manufacturer Adidas, the uniform is a purple top and jacket with Grenadier Guards red on the cuffs and collars.
Beige trousers complete the look.
Each person will be given two polo shirts, two pairs of trousers, two pairs of socks, one jacket and one pair of trainers.
Once in the fitting room Games Makers notice one key feature which is missing - mirrors.
The men appear particularly worried, with one disgruntled volunteer shouting: "How am I supposed to see what I look like?"
Locog says it deliberately did not fit mirrors so that people would not spend time looking at their uniforms.
"Now they come out and get people to take pictures of them to see what they look like. That takes longer." says Miss McMichael.
"If I had to go back and do it all again, I'd put mirrors in."
As Durham student Leah Fletcher, 19, tentatively steps from behind the curtain she seems genuinely thrilled with the uniform she is being given the "privilege" to wear.
"It's amazing. When I was tried it on, I kept looking at it," she says.
"I always wear sporty clothes so I'm used to it. My favourite part is the trainers. I love them."
Miss Fletcher, who had never been to London before, said she had travelled seven hours on a bus to go through the one-hour accreditation process.
The teenager will be helping spectators during the Games and was bubbling with infectious enthusiasm for her task.
"I found out two days before Christmas. I couldn't believe it at all.
"I got an email and wouldn't believe it until I went onto my Games Maker account and read it myself.
"My mum and dad are so proud and all my friends think I'm so lucky."
Neal Harden, 59, was born in London but now lives in the Forest of Dean, Gloucestershire. He managed to combine his uniform collection with volunteering at London test events.
He took the whole process in his stride, arriving with suitcase in tow, first aid pin badges on his hat and a friendly smile on his face.
"I grew up opposite Wembley Stadium and with the links that's got with the Olympic Games I just wanted to be part of the event while it was here.
"I'm never going to get a second chance."
The Police workshop manager will be a First Aid Responder at both the Olympic and Paralympic Games.
"The uniform is certainly distinctive and will help us stand out in the expected crowds," Mr Harden says.
"With all the Games Makers wearing it, it should look quite impressive.
"I think I will probably wear some of it after the event but perhaps not as a complete outfit."
At the checkout
Once the Games Makers have tried on their uniform, they then enter the warehouse and receive their official Games Maker bag.
Staff almost fall over themselves to help volunteers who, it seems, cannot wait to get their hands on their stash.
The kit includes a baseball cap, official Games time bag, water bottle, notepad, umbrella "just in case it rains" and socks. They also pick up their correctly sized garments.
The uniforms will be worn for a minimum of 10 shifts - two changes of clothes per week.
With that in mind they have been designed to be hand washable and crease resistant.
It is something which will please those, including Miss Fletcher and Mr Harden, who plan to use camp sites for accommodation during the Games.
But if the plan doesn't work, Seb Coe's army of volunteers could end up looking like the great un-ironed.
Once the items are bagged up it is through to the "checkout" - which has been provided by retailer Next - where all items are scanned but no money changes hands.
This ensures stock management is maintained and Locog does not run out of popular sizes.
At the end of the accreditation process a free Oyster travel card is issued, so volunteers can get to the Games.
Most Games Makers are to yet to complete their training but as their uniforms are issued, they will be suited, booted and geared up to volunteer.