Newspaper review: Support for Obama gay marriage stance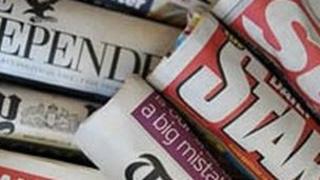 There is widespread praise for President Obama among the UK's newspapers for his declaration of support for gay marriage.
For the Guardian it was the right decision , and it marks how emphatically public opinion in the US has shifted on the issue.
The Times says he has shown moral courage at the risk of political costs.
But the Independent notes that, in comparison, the proposal was conspicuous by its absence from the UK's Queen's Speech earlier in the day.
The paper says it can only be hoped that David Cameron will prove equally courageous in the face of the increasingly vocal opposition to the idea from the Tory right.
'Difficult conversations'
Meanwhile, Thursday's strike by public sector workers was, the Daily Mail says, the dampest of squibs.
In its view, the strike demonstrated only how bloated the public sector remains, given it managed to cope with the loss of tens of thousands of staff without the country suffering any meaningful inconvenience.
According to the Daily Telegraph, under-performing civil servants are to be identified and sacked under plans to rank all government officials by ability.
It says ministers are determined to change a culture in which "lazy" staff get away with poor performance because managers are unwilling to have "difficult conversations".
'Pill addicts'
A number of papers report a warning by the Unite union that London bus drivers could go on strike during the Olympics.
In the Sun's view, if bus crews think the public is on their side on this issue, they must be mad.
The Daily Mail leads with figures suggesting that Britain has become "a nation of sleeping pill addicts" since the start of the economic downturn.
It reports fears that strong medication is being given out too readily to patients suffering from stress-related insomnia, and some are becoming hooked.
Lunchtime rave
The Times reports that office workers in Sweden are abandoning a sandwich at their desks for an hour on the dancefloor.
The Lunch Beat craze has seen lunchtime discos - where alcohol is banned - popping up in a dozen cities.
Finally, the Daily Mirror reports on retired Royal Mail manager Peter Willis, who wants to take a picture of all 115,000 postboxes in Britain.
It says if there was a competition to have the dullest ever ambition, then he has "pipped everyone to the post".