London 2012: Gardeners weather the storm for Olympics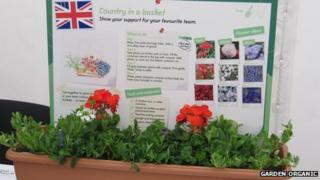 A gardening expert insists that Britain's changeable weather will not dampen down plans to keep Britain in bloom for London 2012.
It comes as the final seeds are sown to create meadows of wildflowers which will decorate the land in and around the Olympic Park.
In a quest to go green around the country, London 2012 organisers Locog launched " Garden for the Games ," encouraging people to plant flowers and vegetables in Olympic colours.
But with adverse weather in Britain - April was the wettest for over a century, following March's mini heatwave - horticultural expert Philip Turvil said it has not affected planting and gardens will be flowering during Games time.
"Little ups and down are par for the course with gardening," he said.
"Some seeds haven't done quite as well but they will soon pick up again.
"Flowers and vegetables are very good at catching up so we don't see any problems for the Olympics."
Mr Turvil is a " Local Leader " from Coventry - one of 13,000 people from around the UK who have been recruited as volunteers to inspire their communities to get together for parties and to get into the garden.
He did admit that the weather had slowed down the growing process, but he remained optimistic.
"It's been a bit cold the last few weeks and a little dark - but we had a nice warm March so overall it will balance it out.
"May is a really good time to get things going. Green courgettes, beetroots and lettuce can still be planted and will offer a shared harvest in time for the Games."
Showing support
Mr Turvil is also the project manager for Garden Organic's Master Gardeners scheme - encouraging 1,000 volunteer champions to help people garden in time for London 2012.
Locog is also giving advice on how to transform individual gardens as well as public gardens or those in schools and around workplaces.
"These are all places which show support for the Games," Mr Turvil said.
"It brings people together. Fruit and vegetables unite people and you don't need many skills to get it going."
Locog has produced guides to get people going - either becoming Local Leaders or planting flowers [pdf] and vegetables [pdf].
Advice includes planting window boxes in red, white and blue colours.
So while Locog is looking to inspire the UK with Olympic colours, it is also getting the Park ready for the millions of spectators who will descend in July.
The Park's wildflower meadows cover the size of more than ten football pitches and it has taken two years of trials to get them ready.
Around 4,000 trees, 300,000 wetland plants, 15,000 square metres of lawns and more than 150,000 perennial plants and bushes have been planted in the area.
Throughout winter and spring, specialist gardeners have been battling the elements, wrapping trees and cutting back early flowering plants to ensure the meadows are ready for July.
There are new habitats for various types of wildlife including otter, kingfisher, bat, frogs and lizards while a total of 250 benches and more than 3,300 seats have been built into the parklands.
Locog chairman Seb Coe said the meadows are not only for visitors to the Park, but will leave a legacy for the future.
"The meadows are just one example of the painstakingly detailed and innovative work of the team of experts that have created the Olympic Park that will be enjoyed by spectators during the Games and for generations to come," he said.
Olympic fever
Mr Turvil said that it is not just the plants which can help to build Olympic fever, vegetables can too.
"It's a very exciting time. The tomatoes are really gaining height and you can put them on shared salads at barbecues on opening ceremony night. That's the idea," he said.
He also gave advice to those gardeners in areas where there are temporary hosepipe bans.
"Lots of techniques can help. You can get plants well established during May and June time.
"When very young, they need good watering and shouldn't go dry. But then the trick is to be a little mean and back off a bit.
"It is tempting to water every day but it is better to ease off and let them go dry. The roots will go deeper and become more resilient.
"Less is more. When you do water them, water them well - less frequently and with more water. Doing that is a better use of a precious resource.
"Direct the water correctly by creating a dish around the plant and water into that dish, so it puddles up and soaks down deep.
"You can also get a pipe, six inches deep, next to the plant and water into that pipe."
Wetland plants for the Olympic Park were grown initially on the Gower peninsula in Wales, with around a third grown from cuttings and seeds collected from the Park before construction started.
The plants were grown on mats sunk in waterbeds in Thetford and are now being transported and planted on the riverbanks.
A Royal Horticultural Society Great British garden overlooks the Stadium, featuring bronze, silver and gold areas with matching colour wildflowers and running-track inspired spiral paths.
The garden also includes a "de Coubertin oak", from an acorn collected from the tree that Baron Pierre De Coubertin planted in 1894 to thank the citizens of Much Wenlock in Shropshire for inspiring the founding of the modern Olympic Games.