Newspaper review: Papers braced for Greek euro exit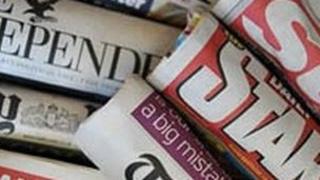 The consequences of Greece's inability to form a government are discussed in Tuesday's papers.
"World braces itself for Greek euro exit," says the Independent.
The Guardian says that with attempts in Athens to form a government looking increasingly doomed, European leaders are talking about the possibility that Greece might have to leave the euro.
The Daily Express says talks of a Greek departure has become acceptable in Brussels and Frankfurt.
Democracy hope
While everyone agrees the short-term fall-out would be serious for Britain and the eurozone, some papers find grounds for optimism in the long term.
In the Daily Mail's view, loosening the euro's shackles would help democracy in Europe mean something again.
It would also let nations adopt exchange rates better suited to their needs, the paper says.
And the Independent says the growing US economy provides hope for British prospects.
The Times says tens of thousands of civil servants in central London can work from home for seven weeks during the Olympics and Paralympics.
It says the move has prompted incredulity from ministers, MPs and business leaders.
Model monarch
According to the Guardian, research has revealed that nine out of 10 academies are selling schoolchildren junk food.
These include crisps, chocolate and cereal bars, which are banned in maintained schools to protect health.
Virgin Atlantic's plan to allow the use of mobile phones during flights leads the Independent to warn that long-haul journeys could soon be accompanied by the irritating sound of ringtones.
The comedian, Dom Joly, writing in the Sun, says the plane was the last relaxing method of travel.
The Guardian features the latest waxwork model of the Queen at Madame Tussauds on its front page.