Newspaper review: Press debate Germany's euro role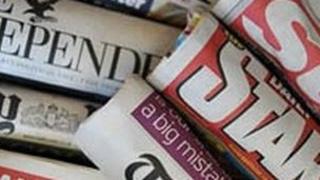 There is a consensus among the papers that all eyes are now on Germany with regard to turning around the eurozone's financial crisis.
The Daily Telegraph reports that the German Chancellor, Angela Merkel, will come under pressure to use her taxpayers' money to help rescue Greece and Spain by underwriting their debts.
The Independent says there is no disputing the scale of the crisis.
And there's a bleak assessment of Greece's economic problems in the Sun.
Flame arrival
The Guardian looks ahead to the G8 summit of industrialised nations in the US this weekend.
It predicts that President Obama will put pressure on Germany to ease the pain of austerity with policies to boost growth in Europe.
The Financial Times believes Mrs Merkel will face isolation at the summit as world leaders push her on measures to stimulate growth.
The Daily Mail says Spain is on the brink of a banking crisis.
The Times looks forward to the arrival of the Olympic flame in Cornwall on Friday and the subsequent Torch Relay.
The Daily Star acknowledges the Games have had sceptics, but thinks it's time to make the most of this once-in-a-lifetime event on our doorstep.
Pyjama party
There are many affectionate tributes to the American singer, Donna Summer.
For the Daily Express she was the first disco divas, while the Times calls her the undisputed queen of the Seventies disco boom.
The decision by Brasenose College in Oxford to stop students wearing pyjamas during breakfast in the dining hall received plenty of press coverage earlier this week.
It has now prompted a debate in the Telegraph's letters page.
A reader from Longdon in Staffordshire tells the paper that he, on occasions, takes breakfast in his pyjamas.
"However, to avoid startling my wife of some 42 years, I do wear a dressing gown and a cravat," he writes.