Sue Akers: Phone hack police chief to retire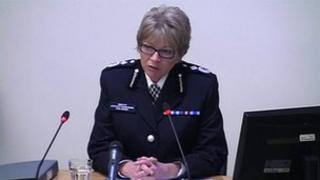 The senior Scotland Yard officer in charge of three linked phone-hacking investigations will retire later this year, the Met has confirmed.
Deputy Assistant Commissioner Sue Akers notified her bosses last autumn that she planned to leave after the Olympic Games.
She is leading inquiries into phone hacking, claims of police corruption and computer crime.
With the Met for 36 years, she has testified at the Leveson Inquiry.
A Scotland Yard spokesman said on Sunday: "Deputy Assistant Commissioner (DAC) Sue Akers is due to retire later this year after 36 years service with the MPS.
"The DAC signalled her intention to retire this autumn when she took charge of investigations into phone-hacking and related corruption and computer crime."
She has led Operation Weeting since January 2011, overseeing a team of 60 officers looking at alleged phone hacking at the now-closed News of the World.
The second investigation - Operation Elveden - is looking at emails received from News International that allegedly show payments made to police by the NoW.
Operation Tuleta, the third inquiry, is looking at allegations that computers were hacked to obtain private information.
Ms Akers has also been leading police inquiries into the potential involvement of intelligence services in relation to detainees held abroad.
Deputy Commissioner Craig Mackey said of her planned departure: "Considerable resources have been dedicated to investigating phone-hacking and related offences and the officers on these operations will continue to follow all evidence of suspected criminality.
"The importance of the continuity of leadership will of course be taken into account when the future command structure for Operations Weeting, Elveden and Tuleta is considered."