Newspaper review: Al-Megrahi death makes front pages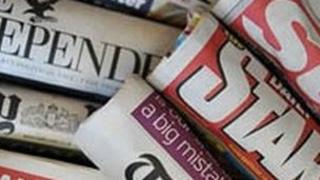 The death of Abdelbaset al-Megrahi, the only man convicted of the 1988 Lockerbie bombing, makes most of the front pages.
Several newspapers throw their weight behind calls for a new investigation to establish if he was to blame, and who else might have been involved.
The Guardian calls for an independent judicial inquiry, saying: "If ever a crime of this magnitude warranted an independent review it is this."
The Independent says that with so many questions left, the Scottish government must agree to a public inquiry.
Snorers' death risk
Claims people who snore are more likely to get cancer are reported by the Daily Express and the Daily Telegraph.
Scientists at the University of Wisconsin-Madison in the US studied the rates of cancer among 1,500 people.
They concluded that those with "severe, sleep-disordered breathing" were 4.8 times more likely to develop cancer than those with no such problems.
They believe a shortage of oxygen may trigger the growth of tumours, but more research is needed to prove the link.
Sea of blue
The sports pages are awash with blue and the smiling faces of the Chelsea team on their Champions League victory parade through west London.
The Daily Mirror reports indignantly that taxpayers paid for Chancellor George Osborne to fly to Munich to watch the final as a guest of his German counterpart, Chancellor Wolfgang Schaeuble.
However, a UK government spokesman says the German government paid for Osborne's ticket and they discussed the eurozone crisis.
The Daily Mail cheekily captions an image of David Cameron watching the game with German Chancellor Angela Merkel, with the words "Don't mention the score".
Gibb death
Finally, the news of the death of the Bee Gees' Robin Gibb came too late for the first editions, but the papers have reports on their websites.
The Independent says the band "defined the disco phenomenon".
Bob Stanley, writing in the Guardian, says that while Barry Gibb wrote the bigger hits, Robin was always his favourite member of the Bee Gees.
"Robin's voice was loud, quavering and intense. It sounded unhappy; it sounded like no-one else before or since."