Your memories of the Queen's 60 years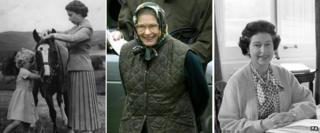 In our Diamond Jubilee series featuring your memories of meeting and seeing the Queen you have recalled many events where she has appeared in her role as Sovereign and head of state.
But like all of us, the Queen has time away from her official duties when she relaxes at home.
For some of you who live around these areas or have visited them, your encounters with the Queen have been more informal and relaxed.
Here are some of the recollections of the Queen on her home ground that you have shared.
Tom Lawson, 2008, Balmoral
It was the summer of 2008 and myself and good friend Craig were doing a spot of hiking.
After walking from Ballater and camping in the woods for the night, we headed towards Loch Muick and came across a man standing next to a large 4x4.
He approached us and asked a few simple questions - what are you doing? Where are you going?
We assumed he was a park ranger and thought nothing more of it.
Eventually we came to the lake and a walker's bothy - a free open house for travellers to stay.
Craig went to find a suitable 'wee tree' since a toilet was not one of the bothy's many features.
Out of the corner of my eye I noticed a woman outside, strolling by with her dogs.
Suddenly Craig poked his head round the door and in a loud whisper said, 'the Queen just caught me having a wee!'
Sure enough as I stepped outside there was the security guard we had seen earlier, and beside him, the woman with several dogs.
The Queen stood small and dainty in a green mac and wellies looking decidedly un-royal, but her face and presence were unmistakable.
My memory of the early parts of the conversation is a patchy blur, but I believe we introduced ourselves adequately enough and she began asking us about our trip.
After the initial shock, speaking to her was like speaking to any other passing walker. We told her about camping and after a glance at our muddy boots she said in jest 'Oh I don't think that would be my sort of thing.'
She also recommended some walks in the area and introduced us to the corgis.
The conversation could have been half an hour or five minutes, it was hard to tell, but before we knew it, she told us she had to depart to nearby Balmoral.
The dogs were ordered into the boot with the exception of one who insisted on sitting in the front.
The Queen then hopped into the driving seat and sped off.
Tom Lawson is 24 and lives in Newbury
Sally Priddy, 1964 to 1969, Windsor
When I was 11, I passed the Eleven Plus exam and since I was horse-mad my parents bought me my own pony as a reward.
We lived in North Ascot at the time and I was able to obtain a coveted pass which gave me permission to ride all over Windsor Great Park.
I often saw Her Majesty the Queen out riding with a friend or her groom and, being very cheeky and full of confidence for my age, I always gave her a friendly wave as we passed each other.
To my absolute delight she always waved back!
I then became a member of the Garth Hunt Pony Club at the same time as Princess Anne.
The Queen used to come to support her at our gymkhanas and show jumping events.
She just stood at the side of the ring often with a corgi or two in tow and would chat quite happily to my parents about her daughter and she would listen to them chat about my progress through the various tests.
My dad was chatting to her at one gymkhana. She was wearing her usual headscarf and gilet and wasn't at all like you see her on television.
He didn't realise who he was speaking to until he saw a photo of himself chatting with her in the paper the next day.
I remember him saying 'Oh, I was talking to her and thought she was the lady from down the road that you wave at!'
And of course, she was.
I have very special memories of seeing the Queen out riding and of her returning my greetings - she made me feel special and I will always think of her as my own Queen.
Sally Priddy is 59 and lives in Minehead
John Coupe, 1995, Sandringham
Back in 1995 I lived in Stoke Ferry, just a few miles down the road from Sandringham.
Because I lived there I often saw the Queen driving around the estate in an old landrover, dressed in her headscarf.
She always waved when you pulled over to let her pass and I always thought she seemed a very personable individual.
My mother used to come and stay with me and one Sunday morning we were sitting out in the sun having a coffee at the Sandringham visitor centre and I said to her that the Queen was there at the moment.
Mum asked how I knew and I said because the police officers were armed.
I asked if she would like to walk over and see the Queen coming out of church at around 11 o'clock. So we did.
As predicted the Queen, Prince Philip and Queen Mum came out of church and we were standing on the corner opposite the entrance as they came out.
There were about 60 or so of us and a little girl went over and presented the Queen with some flowers.
Unexepectedly the Queen came over to say morning to everyone and shook hands with my mum who immediately burst into tears!
The Queen was very kind and as I apologised she simply said, 'Oh that's fine, I do seem to have that effect at times!'
I was surprisedby her great sense of humour.
Later, my mum explained that she joined the WRAC to be like the Queen during World War II and felt she had so many "shared" experiences that she was overwhelmed by the Queen coming to speak to her.
I guess it was only then that I realised the depth of the feelings that the Queen inspired, especially during such a difficult time as WWII.
I still fill up at the thought of my mum's reactions at that meeting - and I was just really touched that the Queen was so pleasant and affable to my mum.
John Coupe is 53 and lives in Carnforth
Sue Dennis, 1957 to 1960, Windsor
We went for family walks in Windsor Great Park from when I was very young, but I remember them most between the ages of five and eight.
My father worked for London Transport so we regularly went from our home in Langley to Windsor as we didn't have to pay on the buses.
On several occasions while we were on our walks my mum would say, "Oh, you need to start behaving yourself as the Queen is approaching."
I always thought it was a joke, but sure enough she was there.
Sometimes the Duke of Edinburgh was with her, sometimes it was her children, but always she had her corgis.
She didn't expect any curtsies and it was always just a friendly exchange about the walk or the weather, just as you would do with any other person walking in the park.
Sue Dennis is 60 and lives in Santon on the Isle of Man
Sharon Griffiths, 1970's and 1980's, Buckingham Palace
My Dad, Douglas Lemesurier, worked for a firm who did a lot of work at government buildings and palaces.
Dad was further vetted so did a lot of work as a plumber in Buckingham Palace, Clarence House and Kensington Palace in the 1970s and 1980s.
He felt very lucky to be doing what he did and clearly had a high security clearance, but he was quite humble about it.
He clearly felt very relaxed in Buckingham Palace .
One day he walked out of the Palace into one of the courtyards or the garden, and several corgis came around his feet, running around his ankles and causing a problem.
He very nearly pushed them away with his feet, and then suddenly remembered where he was!
I remember one story he told about meeting the Queen in one of the corridors in Buckingham Palace.
They were having a conversation and for some reason were talking about the ornate carving over the doorways, and the Queen said something about liking 'the twiddly bits'.
My dad mentioned they were called architraving, but the Queen smiled and responded 'I will call them twiddly bits.'
From my dad's stories she clearly has a good sense of humour and doesn't take herself too seriously - but unless you're in that kind of situation with her you'd never know.
Sharon Griffiths is 56 and lives in Bexhill-on-Sea