Police 'flew to Paris for Sahil Saeed ransom exchange'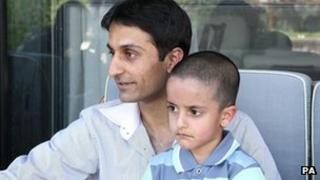 A specialist British police team flew to Paris to oversee the exchange of a large ransom for a boy kidnapped in Pakistan, a court has heard.
The Spanish trial heard the UK experts worked with French police to protect the £110,000 cash handover that led to five-year-old Sahil Saeed's release.
The schoolboy, from Oldham, was taken from his grandmother's home while on holiday with his father in March 2010.
Two Pakistani men and a Romanian woman deny several charges, including kidnap.
The plot's alleged mastermind - Muhammad Zahid Saleem - his wife Gianina Monica Neruja and Muhammad Sageiz are on trial in Tarragona, north east Spain, where it is believed they shared a flat.
The trio are charged with kidnap of a minor, conspiracy, robbery, trespass and unlawful arrest.
Four masked men armed with AK-47 assault rifles and grenades abducted Sahil from his grandmother's house at Jhelum in Pakistan's Punjab region.
The schoolboy - now seven - spent 13 days in captivity.
His father Raja told the court last week his son was still traumatised by the attack, and was "always scared".
Two suitcases
Following his son's safe return, Sahil's father described how the gang said they could put an explosive jacket on the boy and "blow him to pieces".
Rob Ormsby, the head of the anti-kidnap unit at the Serious Organised Crime Agency (SOCA), told the court British officers went to France to assist Sahil's uncle as he delivered £110,000 to his nephew's kidnappers.
The boy was released in Pakistan after the ransom raised by his family was allegedly collected by Mr Saleem and Ms Neruja in Paris.
The money was delivered by Mr Saeed's brother-in-law Tauseer Ahmed, after visa problems prevented Mr Saeed from flying to France.
The specialist team watched over Mr Ahmed, as he left two suitcases containing £105,000 and 5,000 euros in a central Paris park, the court heard.
Mr Ahmed is believed to have received his instructions through a telephone call with Sahil's captors.
French police, who were in overall command of the operation, monitored the situation from a helicopter, the court was told.
Det Supt Geoff Wessell from Greater Manchester Police, remained in the UK to lead the British side of the investigation.
At the trial, he explained it was too dangerous to use a tracking device, so police placed "pre-evidenced cash" and "forensic issues" in the bags.
"We had the serial numbers for some of the cash so that if the ransom was recovered police would be able to check."
He said the gang behind Sahil's kidnapping had to have been "highly organised".
"Any set of criminals that operate across international boundaries are professional," he said.
After their arrest, Spanish police recovered over £101,000 and 3,600 euros from the Tarragona flat.
The trial was adjourned until Tuesday.