Newspaper review: Focus is on Beecroft report fallout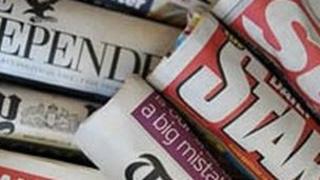 Many of Tuesday's newspapers report on the handling of a new report on employment law reforms.
The Daily Telegraph reports on its front page an accusation that Adrian Beecroft's report was "doctored by No 10".
A leaked version of the original report shows that three controversial proposals were removed, it says.
The paper says Downing Street sources are growing exasperated about the controversy surrounding the report. One tells the paper: "We wish it had never happened."
'Indefensible attack'
The Financial Times says David Cameron is preparing to drop a proposal that did make it into the report - making it easier to fire staff - to avoid splitting the coalition.
The Times reports such a move would trigger a revolt by some Conservative MPs, for whom Mr Beecroft's ideas have achieved "near iconic status".
The Daily Mail calls on the prime minister to put the plan into action, "however much the Lib Dems may howl".
But the Daily Mirror says it is "an indefensible attack" on people.
Military control
The Independent urges ministers to "take another look at grammar schools" to tackle the "shocking and stubborn decline" in social mobility.
It argues that such schools extended opportunities to bright children from modest backgrounds - the very people failed by comprehensive schools.
The Times reports the MoD will control London airspace during the Olympics for the first time since World War II.
The plan, to thwart a terrorist attack, will be supported by fighter jets.
Drought rebranded
Finally, for all those who were confused by the official declaration of drought during the wettest April on record, help is at hand.
The Environment Agency is thinking of changing the way it describes water shortages because, as one of its senior people tells the Telegraph , "drought is a really blunt word".
The Mail says a new term is already being employed by the agency.
Environmental stress due to rainfall deficit - or "ESRD" for short, it says.