London 2012: Remaining Olympic tickets released for general sale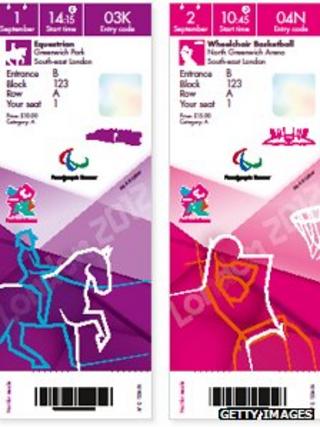 About 500,000 tickets for events at the London 2012 Olympic Games have been released for general sale, organisers Locog have said.
There are some £20 tickets left for sports such as volleyball, table tennis, weightlifting, taekwondo, boxing and fencing.
But several sports have sold out, and there are only higher-priced tickets left for most medal events.
The tickets went on sale at 11:00 BST, with a 24-hour window for purchases.
Organisers Locog say there is a good number of tickets at the cost of £45 to £450 in sports including archery, badminton, basketball, beach volleyball, canoe sprint, diving, handball and hockey.
A list of sports available as of 11:00 can be viewed on the 2012 ticketing website .
Only a limited number of tickets are available in race walk, mountain biking, artistic gymnastics and rowing.
Up to four tickets can be purchased per session, and up to four sessions in one transaction for all available sports apart from football - where more tickets are available to encourage groups to attend.
A London 2012 spokesman said the site had been "busy" and people were being put in a queue for tickets as they went through the process.
"The site has been working well and we are delighted that more people have been able to get Olympic tickets", he added.
Colin McKinnon in Haslemere, Surrey, told the BBC: "We have just got tickets to sailing in last general release of tickets. The system seemed to work well with only minimal wait time."
'Delivered on promise'
All tickets have been sold in some sports, including athletics, cycling, equestrianism, rhythmic gymnastics and swimming, as well as the opening and closing ceremonies.
Locog commercial director Chris Townsend said: "Our priority has been to get as many people who missed out in the sales process last year to the Games.
"We have delivered on our promise and now another 150,000 people have successfully purchased up to four tickets each."
He warned: "Wednesday's sale is a live sale, and, like other high-demand events including pop concerts, we expect the website to be very busy and customers may well be held in queues for over 30 minutes at peak times."
Dominic Foster in London told BBC News the application process had been the "easiest so far".
"The website held me for 10 minutes, I bought some tickets and then made another application - both of which were successful."
But other users reported problems with the site and unsuccessful attempts, including Londoner Andrew McManus.
He told the BBC: "At 11:00 I selected the two events I wanted and was advised that the wait was 10 minutes.
"The first six minutes counted down normally, and then it got stuck at four minutes for an hour."
And Ian Waldie in Wakefield said: "After spending three hours trying to get tickets today from 11:00 I've given up. Not once did I find any available tickets."
The online ticketing system sparked criticism last year after it crashed under high demand.
In some cases, the system reportedly informed potential buyers they had secured tickets, and then later told that they had failed.
Meanwhile, plans have been unveiled for a 10,000-spectator area with a giant screen showing live events in the Olympic Park during the Games.
"Park Live" will be open from early morning until late evening for fans without tickets for the sport venues.