London 2012: Heathrow Airport in numbers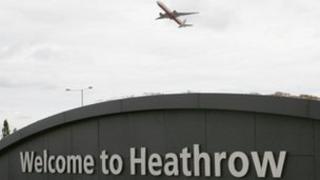 Heathrow in numbers - how the UK's biggest airport is getting ready for the Olympic and Paralympic Games.
Some 500,000 people will be flying into London for the Olympics and Paralympics this summer.
That includes 100,000 athletes, 20,000 members of the media and 150 heads of state. Most of them will arrive via Heathrow.
It will be the start and finish line for the bulk of visitors, giving the country's biggest airport its busiest day ever.
That day will be Monday 13 August, the day after the closing ceremony and the day 65% of visitors are planning to leave.
Some 203,000 bags will be squeezed on to the baggage system - that's 35% more than on a normal day and about 13,000 more than it is designed to handle.
Of those bags, 15,000 will be oversized - full of canoes, javelins, bikes and poles for the pole vault. There will also be more than 980 firearms to check, plus ammunition.
'Heavily-congested skies'
A special temporary terminal is being built just for the "Games family" - athletes and coaches to you and me.
It will be open for three days, snuggled between terminals four and five, and will boast 31 check-in desks and seven security lanes.
Meanwhile, hundreds of extra border staff - they will not give an exact figure - will be on hand to try to keep passport queues down.
Sixteen mobile teams of 10 guards each will be available to target trouble spots if, or should that be when, the queues build up.
It is not just Heathrow of course.
Air traffic control is facing its biggest ever challenge, coping with heavily-congested skies, the threat of a terror attack and possible bad weather. Twenty-five controllers are practising in the simulator every day.
In all, 400 have been specially trained over the past four years to deal with the extra workload.
Any rogue planes should be spotted within two to three minutes, after which military controllers take over that zone and a decision is made whether or not to scramble fast jets.
Extra plane?
The Paralympics is a third of the size of the main event but it is still a huge challenge.
Heathrow will have to deal with a month's worth of wheelchair users in just a week - about 1,800 in total.
Thirteen new scissor lifts and 100 new ramps have been deployed to load and unload wheelchairs while there are six new powered stair climbers to move large electric wheelchairs.
Two-hundred extra staff will welcome the Paralympians and help with the biggest challenge of all - making sure every athlete is reunited quickly with their chair.
As one Paralympian put it, you wouldn't expect able-bodied athletes to leave the plane in someone else's trainers would you?
The Chinese team are arriving on 27 different planes and they'll probably need an extra plane at the end to carry all their medals. I made that last bit up.
Finally, 1,000 local volunteers will greet athletes off the plane, help with their luggage and welcome them to London.
Then a few weeks later, as the Olympic flame dies, those volunteers will wave them off again as they head for home.
One thousand people will be standing there waving goodbye at planes, so if you happen to be going on holiday that day, you might want to wave back.