Newspaper review: Euro analysis dominates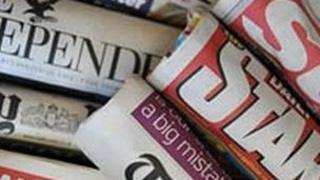 The papers are consumed by another batch of euro reports and analysis.
The Guardian asks whether Europe's leaders are now playing a very large game of chicken with Greece.
It says noises in Brussels about contingency plans for a Greek euro exit seem to be an attempt to put the frighteners on Greek voters.
According to the Independent, the eurozone is preparing to abandon not just Greece, but the entire austerity dynamic - for a shift towards growth.
'Greeeeeek!'
The Times says Germany is reaping short-term benefits from the crisis despite its damaging effects in Europe.
It says low interest rates and booming property arise from the economic pain in the southern half of the continent.
The Financial Times reports that the question of how hard a line to take with Greece was behind the tension at the most recent Brussels summit.
Finally, Wednesday's stock and currency crashes seem to be summed up in the Sun's headline "Greeeeeek!".
Missing Ben
The cost to the taxpayer of preacher Abu Qatada's deportation battle has been investigated by the Daily Express, which says £21m has been paid in legal aid to his lawyers over seven years.
There is a holiday atmosphere in Egypt, says the Times, as voters revel in their first free presidential election.
And the Daily Mirror raises the case of Sheffield toddler Ben Needham, who disappeared in Greece in 1991.
It says police now believe his body may be buried at a former building site.
Rock royalty
The Sun says the rabies victim being treated in London went to doctors three times with symptoms but was initially sent away by her GP and hospital staff.
It reports that six of her relatives and another 14 people have now been vaccinated against the disease.
Finally, the Times says "star-studded" does not do justice to a gathering of arts A-listers at the Royal Academy to celebrate the Queen's Diamond Jubilee.
The paper says it was the most stellar event of the year - with 30 Dames, from Judi Dench and Kiri te Kanawa to Shirley Bassey, queues of rock royalty headed by Sir Paul McCartney, and luminaries from the visual arts world.
If you threw a canapé, you would hit someone famous, it says.