Emergency services issue water jump warning after two deaths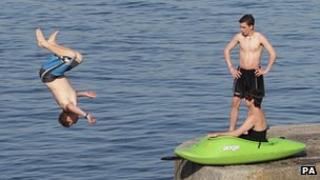 Emergency services across the UK have urged the public not to jump in potentially unsafe waters, after two people died in separate incidents.
A 23-year old man was killed jumping into a waterfall in a Glasgow park on Saturday.
Strathclyde Police later said: "The heat makes these places more attractive but they can be very dangerous."
On Friday evening, a 15-year old boy died after jumping from a bridge into the River Thames in Oxford.
Also on Friday, a 21-year old man suffered serious leg injuries after jumping at least 60ft (18m) into a quarry in Much Wenlock, Shropshire.
A West Midlands Ambulance Service spokesman said the man had reportedly hit the side of the quarry on the way down.
'Unseen hazards'
In Oxfordshire, the body of 15-year old Mohammed Hussain was pulled from the water near Donnington Bridge on Friday evening after a two- hour search.
Simon Belcher, from Oxfordshire Fire and Rescue, said: "In this hot weather it can be very tempting to cool down by taking a swim in the river.
"The unseen hazards make this very dangerous and we would always recommend a supervised pool with a lifeguard on duty."
Mr Belcher's message was later echoed by Thames Valley Police.
Det Insp Rob France said: "We would also like to emphasise that while it might be tempting to jump into the river during this hot weather, there are hidden dangers under the water and so we would advise against doing so."
Meanwhile in Scotland, the unnamed 23-year-old died after apparently jumping into the waterfall at Linn Park in Glasgow.
The Rivers Agency in Northern Island has also issued a water safety statement , urging people not to be tempted to "cool off" in rivers and watercourses.
Philip Mehaffey, acting chief executive at the agency said: "There have been several recent instances involving juveniles jumping into rivers from floodgates and weirs.
"Over the years, there have been a number of tragedies where people have drowned as a direct result of this type of behaviour.
"I would urge parents to ensure their children are behaving responsibly and not putting themselves at risk.
"Likewise for adults, even strong swimmers have experienced difficulties leading to tragic consequences in the past and it is important that everyone stays safe while enjoying this early summer hot weather," he added.