Newspaper review: Syrian children massacre image shown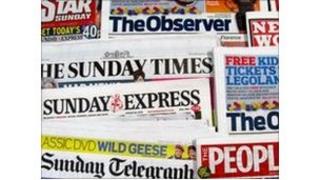 A gruesome image of the bodies of Syrian children said to have been killed by government forces in Houla appears in a number of Sunday's papers.
The Mail says it printed the photo to illustrate the depth of revulsion that may lead to UN intervention.
The editor of the Independent tells readers they may think the paper is guilty of bad taste by publishing the extremely upsetting image.
But, he adds, rarely, we need to be shocked.
Hygiene and hospitals
An investigation by the Sun has discovered that hospital kitchens across Britain are infested with rats , mice and cockroaches.
It says staff are poorly trained, and basic health and hygiene procedures are regularly ignored.
The Sunday Telegraph reports on the full scale of the surrogacy industry in India being used by Britons.
According to the paper, there are up to 1,000 clinics there, all entirely unregulated.
The Sunday Express reports the findings of a survey that suggests pensioners are having to ask their children for money because the recession has left them out of pocket.
It says more than a third of retired people admit to asking them for handouts to pay bills.
Drink-drive difference
The Sunday Times reports that motorists who drink and drive within the legal limit in England and Wales could fall foul of the law if they cross the border into Scotland.
It says Scottish ministers have revealed that they are to lower the drink-drive limit - equivalent to a strong pint of beer or a glass of wine.
The future of Culture Secretary Jeremy Hunt is widely discussed, after revelations at the Leveson Inquiry.
The Observer urges him to go now , while the Sunday Telegraph reports that he may step down after the Olympics.
The paper says the PM is preparing for a decision by Mr Hunt to take some time off from politics in the autumn.