Abu Qatada refused bail by judge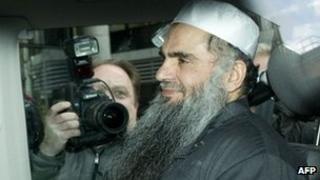 Radical cleric Abu Qatada will remain in prison until his deportation appeal is heard in October, a judge has ruled.
Mr Justice Mitting said allowing him to be on bail during heightened security at the 2012 Olympic Games would be "exceptionally problematic".
Abu Qatada is fighting deportation to Jordan, where he is accused of involvement in several bomb attacks.
The Home Office said Abu Qatada was "a dangerous man" and it was pleased with the court's ruling.
Abu Qatada has now been in jail, or under forms of house arrest, for more than seven years. He is currently at HMP Belmarsh.
Mr Justice Mitting referred to "the very high level of demand in resources" during the Olympics, the issue highlighted by Home Office barrister Robin Tam QC at the Special Immigrations Appeals Commission (Siac) hearing.
"As a matter of logical inference, if Abu Qatada were to abscond, either resources would have to be diverted to finding him or finding him would have to be accorded a lower priority," Mr Tam said.
They said his risk of absconding had risen because deportation was increasingly likely.
'Unconscionable period'
Abu Qatada's lawyer, Edward Fitzgerald QC, told the court his side would not be able to assemble evidence until September.
He said they would take the fight against deportation back to Europe if Siac ruled against him in October.
During the bail hearing, Mr Fitzgerald said Abu Qatada, 51, should be released from jail on the same 22-hour curfew he experienced when he was previously released.
He said keeping him in jail was wrong, he said, because it was a breach of his rights given that deportation was no longer imminent.
Mr Justice Mitting said the case had gone on "for an unconscionable period of time" and suggested that both sides be ready for a hearing in mid-October.
He listed the deportation appeal hearing for 10 October and said there would be a decision a month later.
Abu Qatada's bid to make a final appeal to the European Court of Human Rights failed on 9 May.
The Home Office says Abu Qatada continues to pose a real risk to national security and it will continue to resist any bail application.
Mrs May restarted deportation proceedings in April when she received assurances from Jordan that evidence obtained by torture would not be used against him.
That effectively overturned January's ruling by the European Court of Human Rights that he should not face trial for terrorism on such evidence.
He was sent back to prison on 17 April on the orders of a judge at Siac.