Newspaper review: Papers lose faith in Jeremy Hunt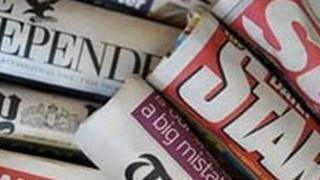 After another day of evidence at the Leveson Inquiry, it seems the papers have lost faith in Jeremy Hunt.
The Guardian calls him the "minister for Murdoch", while the Financial Times says his "closeness to the Murdochs" leaves him a "diminished figure".
It is now clearer than ever: "Mr Hunt must go", agrees the Independent.
And the Daily Mirror's front page pictures Mr Hunt, Mr Osborne, and the prime minister - with the headline "up to their necks in it".
Broke and 'broken'
Away from Leveson, the crisis in the eurozone is covered widely.
The Guardian's Larry Elliott reports from a soup kitchen in Athens. Greece is broke, he writes, "and is close to being broken".
The Express front page claims that George Osborne now backs a referendum on EU membership.
If the prime minister gets Europe right, agrees the Daily Telegraph, "almost no-one will remember the U-turns on pasties or caravans".
But the government's turn-around on charity tax relief is well noticed.
The chancellor's Budget is "in tatters", and his reputation "tarnished", according to the Times.
The Sun is equally succinct. Its leading article asks: "Why doesn't George Osborne just get a box of matches, set fire to his Budget, and start again?"
Finally, the Daily Telegraph reports that the "Budget is turning into a green paper".
'Mass sing-along'
More music is now being sold digitally than on CD - "almost 50 years to the day" since the Beatles' first session at Abbey Road, says the Sun.
But the Mirror's music critic, Gavin Martin, is not convinced. Downloads are inferior to "good vinyl", which has a "greater sonic spectrum", he says.
Staying on music, the Mail reports that the band, Madness, will perform on the roof of Buckingham Palace during the Diamond Jubilee concert on Monday.
They are expected to play Our House, and will finish with It Must Be Love - which, the Mail says, could prompt "an emotional mass sing-along".