Diamond Jubilee: Millions set off on long weekend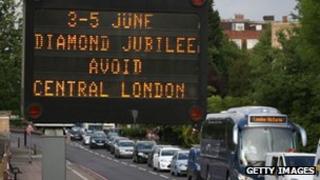 People across the UK have begun their double bank holiday weekend as part of Diamond Jubilee celebrations, but forecasters warn rain is on the way.
About four million Britons were expected to travel within the UK on Friday, and a further two million were to head abroad, travel agencies said.
Up to half a million visitors are expected at Sunday's river pageant on the Thames, but it could be accompanied by showers and cold conditions.
Light rain is expected on Saturday.
However, many people are taking advantage of the double bank holiday by travelling abroad.
Heathrow airport expects 410,000 people to depart over the weekend - on average about 95,000 passengers depart from the airport every day.
Travel association Abta said 200,000 would depart from Gatwick, 140,000 from Manchester, 120,000 from Stansted, 60,000 from Luton and 60,000 from Birmingham.
European destinations are proving the most popular, particularly Spain and Greece because of the pound's strength against the euro.
For long-haul travellers, Florida and Mexico are the most popular destinations this weekend. Paris, Dublin, Amsterdam, Rome and New York will also see a lot of Britons, Abta said.
Eurostar reported a 30% surge in bookings over the Jubilee weekend for its train services to Europe.
Friday was expected to be its busiest day, with about 30,000 passengers expected to travel between the UK and mainland Europe.
The weather forecast is poor for the official celebrations and street parties in the south of England.
In London, Sunday's Jubilee river pageant along the Thames could be doused in rain with temperatures reaching a high of 11C, according to BBC Weather.
The north of England and Scotland are the most likely regions to avoid the rain.
As seven Thames bridges are closed because of the pageant, severe congestion is likely on Sunday, said traffic information company Inrix.
Transport for London advised motorists to avoid central London for all but essential journeys over the weekend.
London Transport Commissioner Peter Hendy said: "Central London will be very busy throughout the weekend and everyone intending to be in central London should use public transport, plan their journeys ahead and check before they travel."
On the roads, the Highways Agency said about 275 miles of roadworks on England's motorways and major A roads would be completed before the weekend, with 43 miles of works suspended until midnight on Tuesday.
Friday afternoon and Saturday are expected to be the busiest times on the roads, said the AA and traffic information company Trafficmaster.
They predicted busy areas on the A303 from the M3 through Hampshire, Wiltshire and Somerset; the M5 in the West Country; and the M6 through Staffordshire and Cheshire into Lancashire.
With London the focus for the celebrations, many mainline train companies have added carriages to cope with higher passenger numbers.
About 500,000 people are expected to travel to London by train to take part in the Jubilee celebrations, according to the Association of Train Operating Companies.
Although rail operators said the vast majority of passengers travelling would not be disrupted by engineering work, some routes are being replaced with buses.
Engineering works have reduced service on the Stansted Express between London Liverpool Street station and Stansted Airport.
Services are running on nearly all London Underground lines at the weekend, but Transport for London strongly advised people to check before they travel.
Transport company National Express said about 30,000 people would travel to London on its coaches over the weekend and that the busiest departure points would be Bournemouth, Bristol and Birmingham.