Diamond Jubilee: Battersea Park hosts royal festival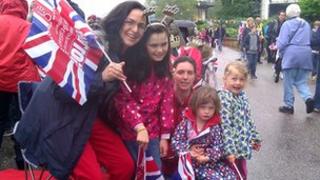 A major festival has taken place in London to mark the Diamond Jubilee.
The event at Battersea Park by the River Thames celebrated music, food, fashion and art from the past 60 years.
It also featured a village green, a 1952 bandstand tea dance and live music performances.
But hundreds of people were delayed by about 30 minutes getting in due to problems with scanners to check tickets.
The frustrated royal fans had been singing: "Why are we waiting?"
Hundreds queued in the rain to get into the south-west London Park.
First in line was Sarah Lewis, from Devon, who had been waiting with her two children since 05:00 BST to get in to watch the river pageant.
"We're tired but very excited," she said.
Festival revellers were able to watch the Jubilee River Thames Pageant as it sailed by.
Jubilade drink
The event also featured an exhibition of royal souvenirs including 100 royal teapots, a portrait of the Queen made out of balloons and a 1977 Silver Jubilee fizzy drink labelled Jubilade.
The park's Pump House Gallery will display the mementoes, collected by members of the public, until 24 June.
Acts performing included 80s ska group The Selecter and indie rockers Noisettes, while sounds of yesteryear were provided by all-female swing band The Bombshellettes along with other 40s and 50s-style big bands.
Designer Wayne Hemingway, co-curator of the festival, said ahead of the event: "We'll be creating a completely immersive environment, a timeline through the 60 years of our Queen's reign.
"This will be a proper knees-up with dancing and plenty of activities.
"It's a chance for people to put their glad rags on, polish their dancing shoes and take a sideways, creative and uplifting look at British eccentricity."
See all the latest Diamond Jubilee news and features at bbc.co.uk/diamondjubilee