British woman 'dead' in Nigeria plane crash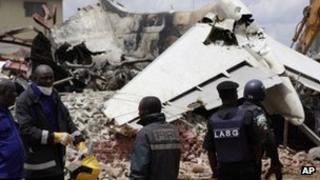 A woman from Liverpool has said she believes her sister was on a Nigerian airliner which crashed in Lagos on Sunday killing all 153 people on board.
Jill Chime said her family had seen a passenger list with the name of her British sister Antonia Attuh on it.
Ms Chime described her sister as a "wonderful person" and said the situation was "very distressing".
The UK Foreign Office said it was aware of the situation and had passed details on to its consulate in Nigeria.
A spokesperson said: "It is believed that there was a dual British-Nigerian national on board the flight.
"The Foreign Office has been in contact with a member of her family and offered consular assistance."
Regular flights
Ms Chime told BBC Radio 5live's Up All Night programme that another sister had flown to Nigeria to help other family members try to find Ms Attuh.
"I also have my cousin who yesterday had gone through 30-odd bodies trying to locate her and today he's gone through a further 40 but as of yet, we still have no confirmation of a corpse," she said.
"It is very difficult, it is very distressing. My sister was a wonderful person, she's quite an exceptional person."
Ms Chime called for an investigation into the crash.
She said: "Definitely an inquiry because only then can the lessons of this tragedy be learned.
"My sister would not have rested until she'd got to the bottom of what happened and why it happened."
Mrs Attuh made regular flights to the west African country.
A cousin who was due to collect Mrs Attuh from the airport told Ms Chime her sister was aboard the doomed Dana Air flight, which was also confirmed by Mrs Attuh's husband, who had seen her off.
Busy suburb
The Dana Air McDonnell Douglas MD-83 was flying from the Nigerian capital Abuja to Lagos when it crashed and burst into flames.
Dana Air usually operates to cities around Nigeria out of Murtala Muhammed Airport in Lagos.
The aircraft crashed into a printing works and residential buildings in Iju, a busy suburb north of the airport.
As well as those on board, an unknown number on the ground were killed.
The Nigerian Civil Aviation Authority (NCAA) has has grounded all Dana Air planes while it carries out checks.
Meanwhile, lawmakers in Nigeria have called for the head of the NCAA to step aside while they carry out an investigation.