London 2012: War on Want criticises Adidas 'sweatshops'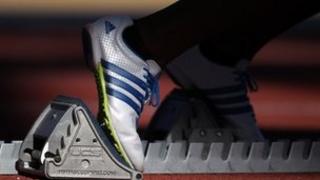 Official Olympic sportswear sponsor Adidas has been urged to tackle what charity War on Want says are sweatshop conditions in its supplier factories.
War on Want said thousands of people around the world were working long hours on poverty wages in appalling conditions to make Adidas goods.
With 50 days until the Games begin, it has launched a new campaign to highlight the issue.
Adidas denied the claim and said it was committed to protecting rights.
The official Team GB sponsor said it also aimed to ensure "fair and safe working conditions in factories throughout our global supply chain".
War on Want's campaign video mimics the style of campaign adverts for charities targeting poverty and abuse in the UK, with the message that basic respect for workers' rights should be universal and the slogan: "Exploitation. It's not OK here. It's not OK anywhere."
War on Want sweatshops campaigner Murray Worthy said: "Around the world, thousands of people making Adidas goods face appalling conditions, poverty wages and excessive working hours, with little dignity or respect.
"This is exploitation. Exploitation of workers is not ok, no matter where they are. Adidas must take responsibility for the workers who make their clothes."
Adidas said a previous report from War on Want contained several inaccuracies and that it had contacted War on Want twice to discuss its earlier allegations but had received no response.
War on Want said on Thursday that it had contacted Adidas in writing yesterday.
An Adidas spokeswoman said: "We take all allegations about working conditions extremely seriously and will investigate any new claims immediately.
"But it is very important to note that we found no evidence to support claims made in a previous War on Want report about factory conditions in Bangladesh.
War on Want, which campaigns against poverty in developing countries, said Adidas had more than 775,000 workers making its products in 1,200 factories across 65 countries.
In March, Adidas unveiled its best-ever annual profits, reporting an 18% rise in net profits in 2011 to 671m euros ($881m; £559m).