Rail watchdog wants 'clarity' in ticket information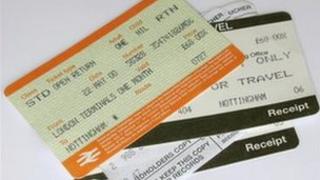 Train firms should provide better information on tickets to help "confused and frustrated" passengers, the Office of Rail Regulation has said.
It follows a survey by the rail watchdog in which passengers outlined how difficult they found it to buy the most cost-effective tickets.
The ORR, which interviewed more than 1,600 rail passengers, blamed such frustrations on a "lack of clarity".
The government said ticket issues were being reviewed and invited feedback.
The survey suggested that some passengers found it hard to buy the most cost-effective fares - partly because not everyone understood the various ticket types available or could decipher the specific meaning of terms such as "advanced".
'Bit of a lottery'
The ORR carried out its research through a mixture of questioning passengers on trains and asking customers who bought tickets online to complete a questionnaire.
Three-quarters of the 755 online respondents were not confident what off-peak times were.
And more than half (52%) of those who responded to the online questionnaire thought that it was "a bit of a lottery" as to whether they found the "best price for a rail journey or not".
ORR chairman Anna Walker said: "Our research shows that passengers are often confused and frustrated by the lack of information about rail tickets, particularly where and when to get the best value fares and what the best ticket options are.
"If passengers do not have the information they need, they can end up paying more than is necessary or find themselves being penalised for having the wrong ticket."
She said this could "undermine" passengers' confidence and their "trust" on the railways.
Ms Walker said the ORR had been working with train companies on ticketing and was pleased with the progress.
Rail Performance Minister Norman Baker said: "I firmly believe that buying a rail ticket should be a straightforward transaction, not an obstacle course."
He said the passengers should be able to "confidently" choose from a range of fares and find the best one for their journey without having to "understand every nuance of the fares and retail structure".
'Haze of uncertainty'
Mr Baker said: "When people do decide to travel by rail, they want a train ticket, not a lottery ticket."
David Sidebottom, director of rail customer watchdog Passenger Focus, said: "Passengers will welcome these findings as they corroborate much of the research we have carried out in recent years.
"Passengers will be pleased to see the rail industry's attempts to dispel the haze of uncertainty that surrounds some rail ticket purchases."
Michael Roberts, chief executive of the Association of Train Operating Companies, said: "By providing a broad range of fares, operators have attracted record numbers of passengers to the railways.
He said that, despite tough financial times, more and more people were travelling by train as they got a "good value ticket" for their journey.
"A lot has been done to make things as straightforward as possible for passengers and we are committed to doing better," he added.