Newspaper review: Papers focus on Cameron euro talks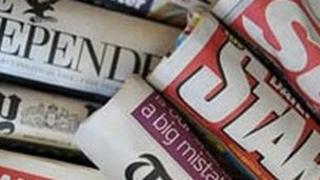 The Daily Telegraph leads with what it says is a pledge from David Cameron that he will "protect the UK from a European superstate".
The paper says he dismissed as nonsense a suggestion from the German chancellor that the EU should eventually have a single national identity.
According to the Sun , Mr Cameron's plea for urgent action on the euro was "swatted away" by Angela Merkel.
Stephen Pollard in the Daily Express calls the euro a "ruinous idea".
Euro vote
The Times says Chancellor George Osborne has put strain on the coalition by signalling the possibility of a referendum on UK membership of the EU.
The Daily Mail is sceptical that such a vote will ever take place .
The paper says that while voters can have referenda other issues, a vote on what it calls "the single most important issue of our time" is denied.
Is it any wonder, the paper asks, that faith in the political class is near rock bottom?
Football boycott
The Sun leads on the decision of UK government ministers not to attend Euro 2012 because of human rights violations in one of the host nations, Ukraine.
The paper questions how serious it is by noting the boycott could be lifted if England reach the quarter-finals.
The Daily Mirror says the decision reflects the worst sort of government interference, at the worst time.
The paper calls it a "rash 11th hour gesture" which could cause a backlash against England fans.
Weather worries
"Batten down the hatches, we're in for a monsoon," warns the Daily Telegraph , which says Britain is about to be battered by 80mph winds from Europe.
The Daily Star describes it as "Looney June" while the Daily Express warns that this month is going to be a "flaming washout" .
The Times' front page shows a satellite image of the United Kingdom at noon on Thursday covered by cloud.
It is accompanied by the headline: "You're right. It's absolutely awful".