Newspaper review: Spain and Syria dominate coverage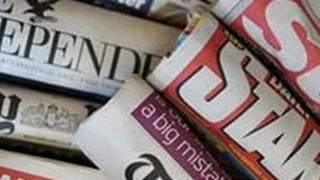 The beleaguered Spanish economy is considered at length in a number of Saturday's newspapers.
The Financial Times believes a Spanish bailout request may be imminent.
The paper says sources told it that ministers want to act pre-emptively to calm market jitters.
The Guardian agrees, saying the "planks" for a bailout are being "bolted together", reflecting a growing consensus that Spain's collapse must be averted to prevent a chain reaction.
International military intervention in Syria is debated in a number of papers.
Former Bosnian peace negotiator Lord Owen writes in the Guardian that UN impotence is "devastating to behold".
Meanwhile, the Daily Telegraph argues that it is time to admit that Kofi Annan's peace plan has failed .
The paper says it is time for the international community to look to Arab countries and Syria's border nations to topple the country's regime.
A legal first on cyber bullying makes the lead in the Daily Mail.
The High Court ordered Facebook to reveal the identities of anonymous "trolls" who tormented a woman after she had posted a comment about an X Factor contestant on the social network.
The Mail says it shows "cowards" that they can no longer hide behind anonymity and might be prosecuted.
And the Times comments that the internet is not "an ungovernable wild frontier" any more.
The funeral of Bee Gees musician Robin Gibb is the lead story in the Sun.
He was the "genuine article" says the paper, which carries a photograph on its front page of his brother, Barry, placing a red rose on the grave.
Meanwhile, following the start of the Euros, the Daily Telegraph enjoys what it calls the "unusual and refreshing" experience of seeing England prepare for a major tournament unburdened by expectation.
The Daily Mirror and the Sun report that the England squad's practice pitch in Poland lacks penalty spots.