Newspaper review: Syria unrest dominates headlines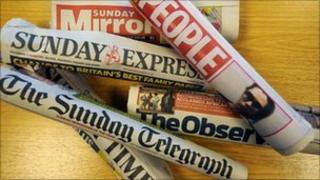 The ongoing unrest in Syria continues to generate headlines in a number of Sunday's newspapers.
The Independent on Sunday says the impact goes far beyond the thousands of people killed in fighting.
It says one and a half million people are reported by the Red Cross to be in need of urgent humanitarian help.
The paper quotes a Red Cross report which found that up to 400,000 people are internal refugees, and more and more civilians are fleeing their homes.
The Sunday Mirror says a British military team will help set up camps in countries bordering Syria, to provide medical aid and hundreds of tents.
The Sunday Telegraph leads with a series of images obtained through what it calls "unprecedented" access to the Guantanamo Bay detention camp.
Inmates were shackled to the floor, having computer lessons and preparing meals with Harry Potter DVDs and Star Wars books on hand as entertainment, it says.
The Sunday Times claims that mobile phone operator Vodafone paid no corporation tax in the UK last year.
But Vodafone told the paper it paid £700m in other taxes.
Millions of young British families are entering "an era of insecurity", warns the Observer on its front page.
The paper says nearly three-quarters of people will be "locked out" of the property market by 2025 and unable to buy a home.
It carries survey findings by Cambridge University indicating that renting will become a way of life for most people.
Meanwhile, the Sun reports that the FA has booked a flight home for the team after the final group game.
Britons who marry foreigners will have to earn at least £20,000 a year to establish a home in the UK as part of a new immigration clamp down, the Mail on Sunday reports.
The Sunday Express accuses the Duchess of Cambridge of "recycling old clothes" for a wedding.
The Sun has images of flood-hit parts of Wales with the headline: "We should have booked a boat, not a caravan."