Secret justice for civil servant 'security risk' cases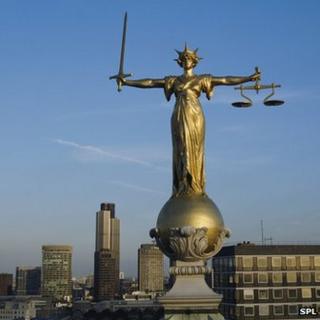 Controversial "secret justice" hearings are being used in employment cases involving 10 civil servants, the BBC has learned.
Originally used for terror-related deportation cases, the government wants to see the hearings open to any civil court dealing with national security.
Critics are concerned increased use of the procedures could lead to miscarriages of justice.
Justice Secretary Kenneth Clarke has defended the plan.
Mr Clarke told Radio 4's File on 4 : "It would be nonsense for the successors of James Bond to be explaining what they're doing and what they know in open court in front of court reporters.
"Also, people who are not very friendly to this country would listen with great attention, I'm quite sure."
Khaled (not his real name) is one of 10 civil servants whose cases are being dealt with under the secret justice procedures.
He worked for the UK Border Agency for nine years and has been trying to find out why he was sacked and is appealing against unfair dismissal.
"I went to work and my manager called me in and said 'we have a security concern on you, you are suspended'.
"She took my passes and escorted me out of the building."
Cases 'impossible to defend'
Two years later Khaled was dismissed.
"I am in limbo. I haven't done anything wrong," he told File on 4, adding: "I was a loyal employee of the Home Office and every year I got excellent reports from my managers.
"I need to know before I die what I have done and what the evidence is."
Lawyer Fraser Whitehead represents nine other civil servants sacked or suspended over allegations they pose a national security risk.
He says the closed hearings make it impossible for his clients to defend themselves properly: "With no evidence before us at all to justify the government's decisions in these cases we can't be confident the evidence is reliable.
"In other areas such as control orders or tagging you are given a gist of the evidence so you can begin to piece together the necessary forensic investigations.
"But we are not even allowed a gist of the evidence in an employment tribunal," he said.
The secret hearings are held under "closed material procedures" (CMPs) which prevent both the claimant and their lawyer from hearing any evidence against them, which the security services believe could pose a threat to national security if made public.
Instead the evidence is presented to a judge in private. A "special advocate", who has undergone top level security vetting, is also present.
The advocate's job is to represent the interests of the claimant but they are forbidden from discussing what has been said with the claimant and their lawyer.
Top secret evidence
Originally devised to deal with deportation cases, CMPs were used in the case of a man, who for legal reasons can only be identified as ZZ.
After moving to Algeria for a year, ZZ was sent a letter by the Home Office saying he was no longer welcome back into the UK. His wife and children are all British citizens.
It was alleged he had been involved in terrorist activities in Algeria, which he denies. For the last six years he has been living in France, while his family remain in the UK.
ZZ's son Adam - not his real name - told the BBC: "They tell us he's a risk to national security, but they won't tell us why."
On 19 June the European Court of Justice in Luxembourg is considering whether failure to disclose more details of the allegations against ZZ is breaching his human rights.
Meanwhile the Justice and Security Bill is getting its second reading this week.
It is opposed by civil liberties campaigners who say it goes against the principle of open justice and could lead to miscarriages of justice.
The majority of special advocates are also opposed to the bill. They believe the secret courts are fundamentally unfair, and a departure from the foundational principle of natural justice.
Justice Secretary Kenneth Clarke told File on 4 it was the only way evidence from MI5, MI6 and GCHQ could be put before a court without jeopardising national security.
"It is obviously a less satisfactory process than the ordinary process of open justice, but open justice is not possible.
"It would be quite extraordinary if suddenly the British started giving their security and intelligence information in open court," he said adding, "in any other jurisdiction in the world that would be regarded as quite extraordinary."
Listen to the full report onFile on 4onBBC Radio 4 on Tuesday, 19 June at 20:00 BST and Sunday 24 June at 17:00 BST.
Listen again via the Radio 4websiteor download the File on 4podcast.