Lawyer Mark Lewis settles hacking libel claim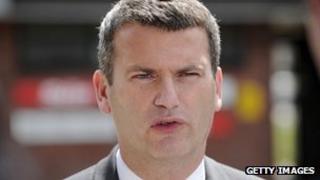 Lawyer Mark Lewis has settled his libel claim against the Met Police, arising from evidence he gave on phone hacking to a parliamentary select committee.
The Met said Mr Lewis had misquoted Det Insp Mark Maberly as saying about 6,000 people were potential hacking victims.
Mr Lewis sued on the basis that the Met had implied he lied to the MPs in 2009.
The Met, which will pay Mr Lewis £30,000 damages and £200,000 in costs, said it accepted he had given evidence "to the best of his recollection".
Mr Lewis has been at the centre of civil claims for breach of privacy brought by some of those whose phones were hacked by the News of the World newspaper, which has now closed.
Among his clients are the family of murdered schoolgirl Milly Dowler and Gordon Taylor, the chief executive of the Professional Footballers Association.
'Wrongly quoted'
In September 2009, Mr Lewis was asked to give evidence on phone hacking to the Select Committee on Culture, Media and Sport.
He told MPs on the committee that he had been told by Det Insp Maberly that about 6,000 people had either had their phones hacked, or had left messages that were intercepted on phones that had been hacked.
In response to a request for information from the Press Complaints Commission about the extent of suspected phone hacking, the Met said their officer had been "wrongly quoted" on the 6,000 figure.
Mr Lewis argued this gave the impression that he had been dishonest.
The Met said it regretted the statement "may have been misinterpreted in some quarters", and accepted that Mr Lewis gave evidence "to the best of his recollection" at the select committee.
Mr Lewis told the BBC that he had accepted the financial settlement. He also withdrew his allegation of dishonesty against Det Insp Maberly.