Greeks living in UK braced for second general election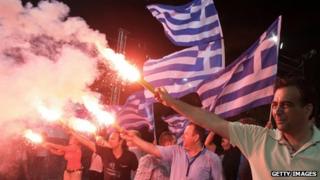 Greeks in the UK are watching their country's elections back home with close interest, as the nation goes to the polls for the second time in six weeks.
The head of the conservative New Democracy Party has billed the vote as a choice between keeping the euro and returning to the drachma. Rival party Syriza says it wants to stay in the euro, but opposes the terms of an international bailout.
Unofficial polls have put these two parties neck and neck.
There are 30,000 people of Greek birth living in the UK and aside from their family links, some still have financial and business connections there. Greeks cannot vote in Sunday's election from the UK or anywhere abroad - they must travel back to Greece to participate.
Here are the views of some Greeks who are based in the UK on the elections and what the future might hold for the country come Monday morning:
Manos Hatzimalonas, 32, psychologist and social entrepreneur, living in London
"I've gone back to Rhodes so that I can vote and explore opportunities in social enterprising between the two countries. The most realistic, optimistic take on the situation is that we must have a government on Monday. By the looks of things, it will be a coalition government.
"The issue is not whether we have the euro or drachma, but whether we can stand on our own feet and make firm strides towards introducing reforms and saving the vulnerable.
"At the same time, we need to be drafting a course alongside all the other states of Europe. The alternative could be sliding us towards an uncertain exit away from the European Union and into the Middle Ages.
"When I look at my country I feel frustrated and disheartened but at the same time I feel I need to be actively involved, even though I've lived in the UK for 12 years in total.
"My parents are both pensioners and have seen their pensions halved in value.
"What this crisis has done is to give us a push off our couches. We have been champions of political philosophising but only in our comfort zones.
"Now we must take the risk and trust our fellow Greeks in overcoming differences and moving towards the obvious and the fundamentally creative, something that will work, for the sake of our generation and future generations."
Venetia Chatzimichali, 31, family lawyer, living in Wolverhampton
"I came to the UK in 1999 to study and I never left. After the elections I hope there will be more people in government that will have an understanding of how banking and financial matters work.
"Up until now it's all been about the great politicians who don't understand all the issues around banking and borrowing.
"I don't want Alexis Tsipras to be the next prime minister. When he makes his speeches I don't think he can do all the things he says he can do. If I were in Greece for the election I wouldn't know who to vote for but I might consider a small party, even though they have no chance of getting in.
"They're called Dimiourgia Xana [Recreate Greece] and are made up of some successful professionals.
"In Greece, the young people like my sisters and friends are suffering because their wages have depleted to almost nothing. Older people, like my father and uncles, are worried that if we leave the EU then they won't receive their pensions and free medical care.
"If we stay in the Eurozone people won't be able to have any savings and will have wasted their best years achieving nothing.
"But if we leave the Eurozone things will immediately be bad, but then in two or three years Greece will be a cheaper place to invest and for tourists to visit so it can begin to get back on its feet.
"So it's not a black and white issue. Part of me says we should come out of the eurozone. It's not going to be easy but the long-term effect will be better."
Will Kotiadis, 31, biology research associate at University College London, living in Kent
"My father is Greek and my mother is English and I'd prefer it if the New Democracy Party were elected because the radical left might take a few steps that will go too far.
"Although I would, for the time being, support a coalition led by the New Democracy Party I would like a new guard to take lead in due course - one comprised of the talented new generation, rather than the old establishment that had a part in the current critical situation.
"There's a need for some sort of renegotiation but trashing the current agreement will be the wrong thing. There needs to be reforms for how the state is run, cutting out corruption and tax evasion.
"Greece isn't the problem but it has problems - as the weakest patient it's suffering the most.
"Greece should stay in the eurozone but shouldn't be bullied into conforming to certain rules that will drive it to exit the euro.
"I'm hoping that there will be some stability, some reassurance after these elections, that people who can put Greece back on the road to recovery will get into power.
"I would gladly have gone back to Greece to live and contribute to society there, but I work in science and there just haven't been the opportunities."
Elina Theodorakopoulou, 29, studying dermatology PhD, living in Manchester
"The most realistic outcome of the election will be to have a coalition made up of the New Democracy Party and pro-European parties that can implement the necessary reforms.
"Although the radical left might make it difficult to create any reforms.
"We also need to ameliorate the current tax measures to give breathing space to the middle and working classes who have been demolished over the past few years.
"Having a new drachma will be like living in the 1950s.
"I've spoken to a few Greeks living abroad and they all agree that we need to have foreign investment to stimulate the economy.
"I feel anxious about the situation, but at the same time I have faith.
"I came to the UK from Athens in 2010 because I was driven out by the lack of meritocracy. So we need a change in our whole mentality.
"That's why I'd like to go back now and use the skills I have there - there are many people who want to go back to reinvigorate the market.
"Our problems are complex, and not just about the financial crisis. The political system itself need to be changed to be more technocratic, but also with more ethics."