Newspaper review: Papers focus on election in Greece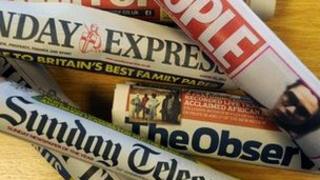 It is D-Day for Greece, according to the People - the D, in this instance, standing for drachma.
But whatever the result of the election, the paper says, the Greeks face "years of misery".
The Observer's correspondent in Athens says everyone there knows they have a choice between "excruciating austerity measures and euro exit".
"Greece stays in the euro", says the Sun - but it is referring to the country's football team at Euro 2012.
Pension pots
There is precious little sympathy for GPs, who are due to take industrial action on Thursday to protest against changes to their pensions.
Several papers report that more than 100 doctors and consultants have retired recently with pension pots worth more than £3.5m each.
The Mail on Sunday describes the strike as "petulant" .
But Observer columnist Victoria Coren insists that "the government should leave their pensions alone".
Submarine spending
The Independent on Sunday prints the text of Aung San Suu Kyi's acceptance speech for the Nobel Peace Prize, which she was awarded in 1991.
It was "a speech the world waited 21 years to hear" , the paper says.
The government's decision to develop reactors for the next generation of nuclear submarines is welcomed by the Sunday Telegraph .
When a growing number of countries have nuclear weapons, it says, "Trident is essential to our future safety".
Soccer secrets
Finally, there is indignation at the discovery of a spy at Euro 2012.
Swedish journalist Ola Billger claims he used binoculars to watch England coach Roy Hodgson brief his players ahead of their match with Sweden.
He then contacted the Sweden team to pass on his findings which, according to the Daily Star Sunday , included "England's blueprint for set-pieces".
The Sun says that, "interestingly" , both goals conceded by England in their 3-2 win on Friday came from free-kicks.