Writer Gitta Sereny dies aged 91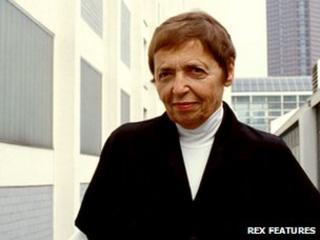 Journalist and author Gitta Sereny has died at the age of 91.
Born in Vienna, she saw first-hand the rise of Nazism and spent her life exploring the nature of evil.
Ms Sereny, who moved to the UK in the 1950s, wrote books on Nazi architect and armaments minister Albert Speer and child murderer Mary Bell - causing controversy by sharing her fee with her.
Her publisher said she died last week in Cambridge's Addenbrooke's hospital.
Nazi witness
She was awarded the CBE for her services to journalism in 2004.
She grew up in Vienna, the daughter of a Hungarian aristocrat and a German actress, and as a young girl attended a Nazi rally at Nuremberg, which she said both excited and frightened her. She later saw Nazi leader Adolf Hitler address a crowd in Vienna.
In 1945, she briefly attended the Nuremberg war crime trials where she caught her first glimpse of Speer in the dock.
Half a century later, Ms Sereny befriended Speer and his wife to try to find out exactly how much he had known about the Holocaust while he was working for Hitler.
Ms Sereny admitted to liking the former Nazi despite his delusions of innocence. But in her book, Albert Speer: His Battle With Truth, she presented a damning portrait of a man who knew about the plan to exterminate the Jews but went along with it because of his love for Hitler.
After working with abandoned children in post-war Europe, Ms Sereny moved to the UK in the 1950s with her husband and two children.
Her 1998 book Cries Unheard, was a development of her 1972 study, The Case of Mary Bell, who at the age of 11 killed two young boys in Newcastle.
Bell had agreed to talk after the death of her mother in 1995. "She'd been in denial for years, her way of coping with her guilt. And, believe me, she suffers from guilt," Ms Sereny said.
The writer attracted controversy after sharing part of the fee with her subject. Her books were noted for her meticulous research and close involvement with her subjects.
All her subjects - including Mary Bell - had, she believed, suffered a catastrophic lack of love in childhood which helped explain their later behaviour, the BBC's Nick Higham said.
Her own childhood had been lacking in affection: her mother was a beautiful actress, her father died when she was two, our correspondent said.