England football fans behind surge in Kiev flight sales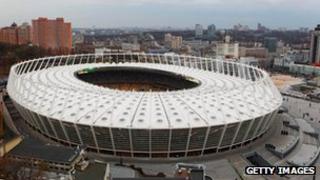 Airlines and travel sites have reported a surge in interest in flights to Kiev ahead of England's Euro 2012 quarter-final against Italy on Sunday.
British Airways is using larger-than-normal aircraft for flights to the Ukrainian capital.
Some optimistic English fans are also booking flights to the Polish capital, Warsaw, for a possible semi-final against Germany on 28 June.
Only a handful of cheap flights to Warsaw next week remain on some sites.
Kevin Miles of the The Football Supporters' Federation told the Independent newspaper that the supporters now intending to head out to Kiev would be joining "around 5,000" fans already in the country to attend the match.
Swiss Airlines had only a few tickets left for flights next week from Heathrow to Warsaw via Zurich, while cheapoair.co.uk listed very few seats remaining, including those on German airline Lufthansa via Frankfurt.
A BA spokeswoman said: "Since England won their group (by beating Ukraine on Tuesday) we've seen an increase in bookings to Kiev from fans eager to support the team and help them get to the next stage.
"In response we've put larger aircraft on to the route to make more seats available to fans."
Searches soar
A spokeswoman for CheapFlights.co.uk said: "We have seen an increase in searches on our site for Kiev and Warsaw."
Nadine Hallak added: "England fans continue to show support for their team, hunting in hordes for flights to upcoming matches.
"We found that peak searches for the England vs Italy match in Kiev occurred at half-time during the England-Ukraine game.
"The day of the game showed a 311% increase in searches over a normal day. Demand continued to rise yesterday, with daily searches up a whopping 1,011% over a normal day. The surge began as early as 6am and peaked at 8am, but stayed strong throughout the day."
Anne-Maria Mockridge of the FSF was quoted in the Times as saying England fans should be able to find accommodation in Kiev because many Swedish supporters had left the city after their team was knocked out.
Ahead of Euro 2012 there were of warnings of potential violence from right-wing Ukrainian fans and reports of high accommodation costs.
And the tournament is so far thought to have attracted a lower turn-out from England fans than previous European Championships and World Cups.
The Football Association was given around 7,500 tickets for the games against France and Ukraine, and 9,000 for the Sweden fixture.
But only 3,000 tickets were sold through England's official membership group for each of the group games.